Detailed resolution analysis reveals spatial T cell heterogeneity in the invasive margin of colorectal cancer liver metastases associated with improved survival
ABSTRACT
---
On a broader scale, T cell density and localization in colorectal cancer liver metastases have prognostic and predictive implications. As T cell distribution at higher resolutions has not been fully investigated, a detailed resolution analysis of T cell distribution was performed. Patient tissues were divided into 10 µm distance classes between the tumor border and adjacent normal liver. Thereby, distinct density patterns of T cell localization in relation to the malignant tissue could be detected. At a distance of 20 to 30 µm to the tumor, a decrease of CD3 T cells is common. Within this area, cytotoxic Granzyme B and CD8+ T cells were found to be significantly reduced as well as CD163 macrophages were increased and identified to be in close contact with T cells. Our data suggests a physical or functional border within this region. Survival analysis revealed improved overall survival in patients with high T cells numbers at the direct tumor border. Interestingly, the decreased T cells in the 20 to 30 µm region were also found to be significantly associated with improved survival. Consequently, the detailed localization of T cells, despite blockade, could be associated with improved clinical outcome. The high-resolution analysis represents new insights into relevant heterogenous T cell distributions especially related to clinical responses. As the paradoxical observation of localization-dependent prognostic relevance of T cell densities is only detectable by detailed spatial analyses, this investigation of spatial profiles at higher resolutions is suggested as a new biomarker for survival and response to therapies.
No MeSH data available.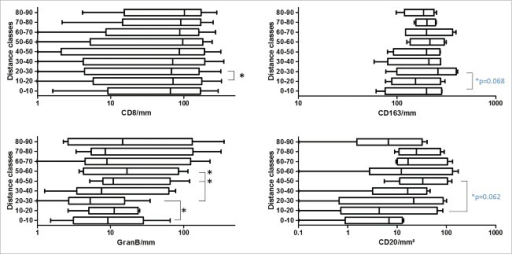 © Copyright Policy - open-access
License
getmorefigures.php?uid=PMC5384380&req=5
Mentions: To get a more detailed picture of the CD3 cell distribution pattern, we did a similar distribution and survival analysis (only CD8+) in representative patient samples for CD8+ (n = 10), Granzyme B (n = 6), CD163 (n = 4) and CD20 (n = 4) as shown in Fig. 5 (and Fig. S2). Especially, GranB was found to significantly "decrease" at the distance of 20–30 µm (Wilcoxon signed-rank test, p = 0.03) following a significant increase further away from the tumor (p = 0.03). In line with this, also CD8+ cells slightly but significantly decreased in the 20–30 µm region (p = 0.049). CD8+ cells, however, were rather evenly distributed among the whole area analyzed with a median cell number of ∼87 cells/mm2. Furthermore, survival analysis showed that high CD8+ infiltrates in the >10 µm region significantly elongated OS similar to CD3 (Fig. 6). Nevertheless, no significant differences between CD8+ high and low infiltration were observed in the other distance classes. In contrast to the T cells, CD163 macrophages showed a trend to increase in the 20–30 µm distance class (Fig. 5). While in the other distance classes CD163 cells were rather evenly distributed with a median of ∼200 cells/mm2, the distribution of CD20 cells was found to be more heterogenous with least cells at the tumor border, and slightly increasing densities further away (Fig. 5 and Fig. S2). From all cell types analyzed, GranB and CD20 cells appeared to be the smallest populations present in the tissues with median cell counts of 9 and 16 cells/mm2, respectively. In Figs. S3 and 4, representative images of CD3, CD8+, GranB, CD163 and CD20 immunostainings are shown.Figure 5.