Activation of LINE-1 Retrotransposon Increases the Risk of Epithelial-Mesenchymal Transition and Metastasis in Epithelial Cancer
ABSTRACT
---
Epithelial cancers comprise 80-90% of human cancers. During the process of cancer progression, cells lose their epithelial characteristics and acquire stem-like mesenchymal features that are resistant to chemotherapy. This process, termed the epithelial-mesenchymal transition (EMT), plays a critical role in the development of metastases. Because of the unique migratory and invasive properties of cells undergoing the EMT, therapeutic control of the EMT offers great hope and new opportunities for treating cancer. In recent years, a plethora of genes and noncoding RNAs, including miRNAs, have been linked to the EMT and the acquisition of stem cell-like properties. Despite these advances, questions remain unanswered about the molecular processes underlying such a cellular transition. In this article, we discuss how expression of the normally repressed LINE-1 (or L1) retrotransposons activates the process of EMT and the development of metastases. L1 is rarely expressed in differentiated stem cells or adult somatic tissues. However, its expression is widespread in almost all epithelial cancers and in stem cells in their undifferentiated state, suggesting a link between L1 activity and the proliferative and metastatic behaviour of cancer cells. We present an overview of L1 activity in cancer cells including how genes involved in proliferation, invasive and metastasis are modulated by L1 expression. The role of L1 in the differential expression of the let-7 family of miRNAs (that regulate genes involved in the EMT and metastasis) is also discussed. We also summarize recent novel insights into the role of the L1-encoded reverse transcriptase enzyme in epithelial cell plasticity that suggest it might be a potential therapeutic target that could reverse the EMT and the metastasis-associated stem cell-like properties of cancer cells.
No MeSH data available.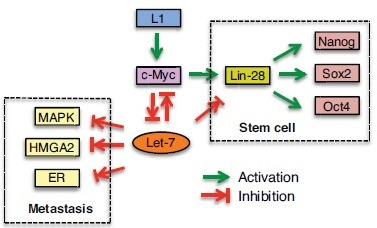 © Copyright Policy - open-access
License
getmorefigures.php?uid=PMC5384359&req=5
Mentions: Let-7 is one of the most highly conserved miRNAs and is considered to be a vital tumor suppressor targeting cancers and cancer stem cells within tumors. Let-7 is known to target many oncogenes and "stemness" factors including c-Myc, Ras, HMGA2, NF-κB and Lin28 [56] and studies in lung, breast and prostate cancer reveal that overexpression of let-7 inhibits cancer cell proliferation, in vitro clonal expansion and in vivo tumor regeneration by reducing c-Myc expression [57]. c-Myc is one of the key genes activated by L1 activity in cancer cells [39, 42] and interestingly, the c-Myc protein also binds to let-7 promoter and decreases let-7 expression in a feedback loop [58]. During stem cell differentiation, certain members of the let-7 family of miRNAs are expressed at high levels, playing key roles in differentiation. In contrast, Lin28, an inhibitor of let-7 miRNAs, is mainly expressed in undifferentiated stem cells and forms part of a pluripotency network regulated by transcriptional factors including Oct4, Sox2 and Nanog [59]. Introduction of let-7 miRNAs is sufficient to rescue the compromised differentiation phenotype of miRNA-deficient stem cells. A recent study reports that c-Myc protein can also stimulate Lin28 expression by binding to the Lin28 promoter. Lin28 subsequently represses let-7 expression post-transcriptionally [60]. We and others have shown that inhibition of L1 activity reduces the expression of c-Myc, explaining the ability of L1-silenced cells to activate let-7 miRNA [39, 42]. Thus it seems that L1 is somehow involved in the c-Myc/let-7/Lin28 regulatory circuit (Fig. 3). Whether this involvement is direct or indirect has yet to be proven experimentally. Interestingly, the overexpression of let-7 miRNA in breast cancer stem cells blocks tumor progression and inhibits the self-renewal capacity of metastatic cells by directly influencing its targeted genes [61]. Moreover, let-7 also targets several oncogenes that mediate the activation of the mitogen-activated protein kinase (MAPK) and estrogen-receptor (ER) signaling pathways [62], thereby inhibiting proliferation and suppressing tumor-promoting transcription factors in breast cancer. For these reasons, inhibition of the L1 may be a potential therapeutic strategy to treat cancers and cancer stem cells in clinical applications.