Role of microRNAs in Vascular Remodeling
ABSTRACT
---
Besides being involved in the gradual formation of blood vessels during embryonic development, vascular remodeling also contributes to the progression of various cardiovascular diseases, such as; myocardial infarction, heart failure, atherosclerosis, pulmonary artery hypertension, restenosis, aneurysm, etc. The integrated mechanisms; proliferation of medial smooth muscle cell, dysregulation of intimal endothelial cell, activation of adventitial fibroblast, inflammation of macrophage, and the participation of extracellular matrix proteins are important factors in vascular remodeling. In the recent studies, microRNAs (miRs) have been shown to be expressed in all of these cell-types and play important roles in the mechanisms of vascular remodeling. Therefore, some miRs may be involved in prevention and others in the aggravation of the vascular lesions. miRs are small, endogenous, conserved, single-stranded, non-coding RNAs; which degrade target RNAs or inhibit translation post-transcriptionally. In this paper, we reviewed the function and mechanisms of miRs, which are highly expressed in various cells types, especially endothelial and smooth muscle cells, which are closely involved in the process of vascular remodeling. We also assess the functions of these miRs in the hope that they may provide new possibilities of diagnosis and treatment choices for the related diseases.
No MeSH data available.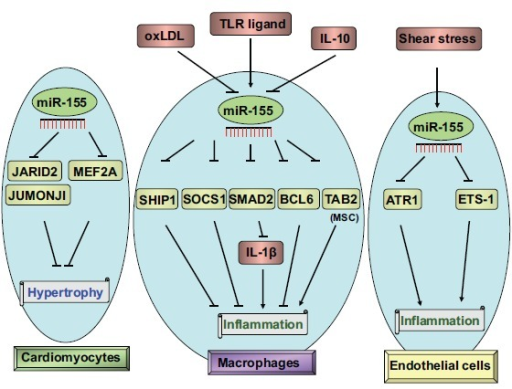 © Copyright Policy - open-access
License
getmorefigures.php?uid=PMC5384354&req=5
Mentions: When macrophages activated and induced inflammatory response, the expression of miR-155 was increased. Some molecules could either up-regulate or down-regulate the expression of miR-155. For example, Toll-like receptor ligands can up regulate the synthesis of miR-155 in macrophages or monocytes. However, IL-10, an anti-inflammatory cytokine, down-regulates the expression of miR-155 through inhibition of STAT3. This in turn increased the activity of SH2-containing inositol polyphosphate-5-phosphatase and suppressed the production of pro-inflammatory cytokines, subduing the inflammatory response [60] (Fig. 8). Many target genes of miR-155 have now been discovered. For example, up-regulation of miR-155 can inhibit TGF-beta-induced phosphorylation of SMAD2, which in turn up-regulates the production of IL-1β and aggravates the inflammatory response [61]. Furthermore, miR-155 also binds the 3'UTR of suppressor of cytokine signaling 1 [62], or B-cell leukemia/lymphoma 6 [63] which further aggravate the inflammatory response [64]. In contrast, it also down-regulated the expression of TGF-β activated kinase 1/MAP3K7 binding protein 2 [58], suppressing the inflammatory response. In endothelial cells, miR-155 played a negative role in inflammation. Studies have shown that unidirectional shear stress can up-regulate the synthesis of miR-155, which targets two genes, angiotensin-II type-1 receptor or Ets-1 [65], suppressing inflammation. In cardiomyocytes, miR-155 increased hypertrophy via down-regulation of MEF2A, Jarid 2, or Jumonji [14]. In summary, miR-155 inhibits hypertrophy in cardiomyocytes and plays an inhibitory role in endothelial cells, yet in contrast activates the inflammatory response.