Cergutuzumab amunaleukin (CEA-IL2v), a CEA-targeted IL-2 variant-based immunocytokine for combination cancer immunotherapy: Overcoming limitations of aldesleukin and conventional IL-2-based immunocytokines
ABSTRACT
---
We developed cergutuzumab amunaleukin (CEA-IL2v, RG7813), a novel monomeric CEA-targeted immunocytokine, that comprises a single IL-2 variant (IL2v) moiety with abolished CD25 binding, fused to the C-terminus of a high affinity, bivalent carcinoembryonic antigen (CEA)-specific antibody devoid of Fc-mediated effector functions. Its molecular design aims to (i) avoid preferential activation of regulatory T-cells vs. immune effector cells by removing CD25 binding; (ii) increase the therapeutic index of IL-2 therapy by (a) preferential retention at the tumor by having a lower dissociation rate from CEA-expressing cancer cells vs. IL-2R-expressing cells, (b) avoiding any FcγR-binding and Fc effector functions and (c) reduced binding to endothelial cells expressing CD25; and (iii) improve the pharmacokinetics, and thus convenience of administration, of IL-2. The crystal structure of the IL2v-IL-2Rβγ complex was determined and CEA-IL2v activity was assessed using human immune effector cells. Tumor targeting was investigated in tumor-bearing mice using 89Zr-labeled CEA-IL2v. Efficacy studies were performed in (a) syngeneic mouse models as monotherapy and combined with anti-PD-L1, and in (b) xenograft mouse models in combination with ADCC-mediating antibodies. CEA-IL2v binds to CEA with pM avidity but not to CD25, and consequently did not preferentially activate Tregs. In vivo, CEA-IL2v demonstrated superior pharmacokinetics and tumor targeting compared with a wild-type IL-2-based CEA immunocytokine (CEA-IL2wt). CEA-IL2v strongly expanded NK and CD8+ T cells, skewing the CD8+:CD4+ ratio toward CD8+ T cells both in the periphery and in the tumor, and mediated single agent efficacy in syngeneic MC38-CEA and PancO2-CEA models. Combination with trastuzumab, cetuximab and imgatuzumab, all of human IgG1 isotype, resulted in superior efficacy compared with the monotherapies alone. Combined with anti-PD-L1, CEA-IL2v mediated superior efficacy over the respective monotherapies, and over the combination with an untargeted control immunocytokine. These preclinical data support the ongoing clinical investigation of the cergutuzumab amunaleukin immunocytokine with abolished CD25 binding for the treatment of CEA-positive solid tumors in combination with PD-L1 checkpoint blockade and ADCC competent antibodies.
No MeSH data available.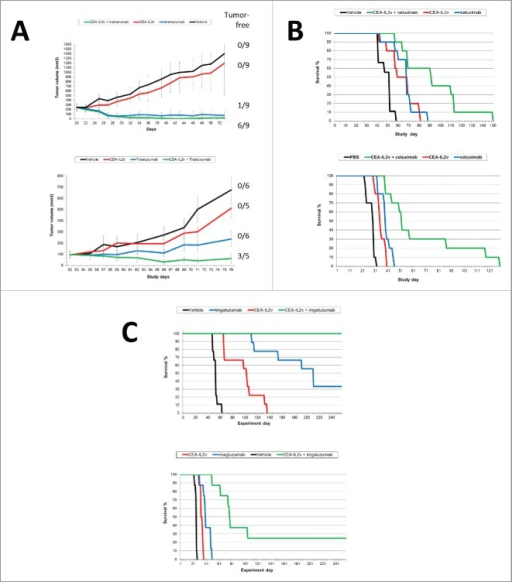 © Copyright Policy - open-access
License
getmorefigures.php?uid=PMC5384349&req=5
Mentions: The combination of CEA-IL2v with cetuximab, trastuzumab and glycoengineered imgatuzumab43 was subsequently investigated in human CD16-transgenic SCID mice (Fig. 6, Table S7). As a single agent, CEA-IL2v (1 mg/kg, q1w3) showed only minor tumor growth inhibition (TGI) in the s.c. N87 gastric and the orthotopic KPL4 breast cancer xenograft models. Combination with trastuzumab (25 mg/kg, q1w3 in N87 and 10 mg/kg, q1w3 in KPL-4) resulted in superior TGI compared with the respective monotherapies including complete tumor remission in several animals (Fig. 6A, Table S7A, B). In the intravenously injected A549 lung cancer and intrasplenically injected LS174T colorectal xenograft models, CEA-IL2v (1 mg/kg, q1w3) mediated only a moderate effect, whereas combination with cetuximab (25 mg/kg, q1w3) resulted in increased median and overall survival (OS) including long-term surviving mice (Fig. 6B, Table S7C, D). Similarly, in these xenograft models, combination with imgatuzumab (25 mg/kg, q1w3) resulted in superior median and OS compared with the respective monotherapies, and in long-term survival of all treated animals in the A549 model (Fig. 6C, Table S7E, F). When comparing studies, the combination with glycoengineered imgatuzumab appeared superior in outcome compared with the cetuximab combination. Thus, combining CEA-IL2v with ADCC competent antibodies resulted in at least additive enhancement of TGI including remission and increased median/OS (Fig. 6D, Table S7D).Figure 6.