CSE1L interaction with MSH6 promotes osteosarcoma progression and predicts poor patient survival
ABSTRACT
---
To discover tumor-associated proteins in osteosarcoma, a quantitative proteomic analysis was performed to identify proteins that were differentially expressed between osteosarcoma and human osteoblastic cells. Through clinical screening and a functional evaluation, chromosome segregation 1-like (CSE1L) protein was found to be related to the growth of osteosarcoma cells. To date, little is known about the function and underlying mechanism of CSE1L in osteosarcoma. In the present study, we show that knockdown of CSE1L inhibits osteosarcoma growth in vitro and in vivo. By co-immunoprecipitation and RNA-seq analysis, CSE1L was found to interact with mutS homolog 6 (MSH6) and function as a positive regulator of MSH6 protein in osteosarcoma cells. A rescue study showed that decreased growth of osteosarcoma cells by CSE1L knockdown was reversed by MSH6 overexpression, indicating that the activity of CSE1L was an MSH6-dependent function. In addition, depletion of MSH6 hindered cellular proliferation in vitro and in vivo. Notably, CSE1L expression was correlated with MSH6 expression in tumor samples and was associated with poor prognosis in patients with osteosarcoma. Taken together, our results demonstrate that the CSE1L-MSH6 axis has an important role in osteosarcoma progression.
No MeSH data available.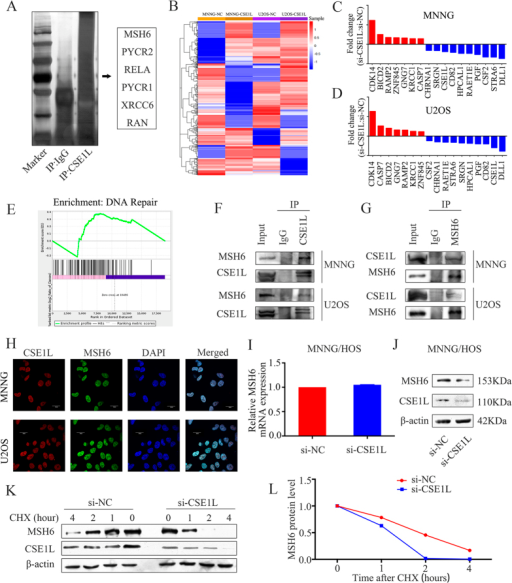 © Copyright Policy - open-access
License
getmorefigures.php?uid=PMC5384328&req=5
Mentions: To determine the underlying mechanism of CSE1L in osteosarcoma, co-immunoprecipitation was performed in MNNG/HOS cells. Following protein identification using mass spectrometry, 6 proteins (MSH6, PYCR2, RELA, PYCR1, XRCC6, and RAN) were chosen for verification (Fig. 4A). Then, RNA-seq was performed after transfection of CSE1L-specific siRNA into cells to identify changes in gene expression. The heat map of dysregulated genes is shown in Fig. 4B. In MNNG/HOS and U2OS cell lines, 668 genes were found to be altered after si-CSE1L transfection, in which 7 upregulated and 10 downregulated genes were selected for validation using qRT-PCR (Fig. 4C and D). The Gene Set Enrichment Analysis (GSEA) demonstrated that enrichment of the gene signature was associated with DNA repair (Fig. 4E). Because MSH6 is a DNA repair-related gene, we pulled down CSE1L and probed for MSH6. We found that CSE1L specifically interacted with MSH6 as shown in the immunoprecipitation assay (Fig. 4F). Conversely, we pulled down MSH6 and probed for CSE1L and found that MSH6 and CSE1L interacted with each other in MNNG/HOS and U2OS cells (Fig. 4G). In addition, we confirmed using confocal analysis that MSH6 and CSE1L are co-localized in MNNG/HOS cells and U2OS cells (Fig. 4H). Therefore, CSE1L associates with MSH6 in osteosarcoma cells. Next, we examined whether MSH6 mRNA or protein levels were affected by CSE1L. Knockdown of CSE1L in MNNG/HOS cells failed to alter MSH6 mRNA expression but led to a significant decrease of MSH6 protein expression (Fig. 4I and J). To further determine whether CSE1L affects MSH6 protein stability, we measured the half-life of MSH6 protein using a cycloheximide (CHX) chase assay and found that CSE1L knockdown markedly decreased the half-life of MSH6 protein (Fig. 4K and L). To identify the potential mechanism by which CSE1L affects MSH6 protein stability, MG132 (100 μmol/L) was added to MNNG/HOS cells for 6 hours after transfection with si-NC or si-CSE1L for 48 hours. The results showed that CSE1L knockdown-mediated reduction of MSH6 could be inhibited by the proteasome inhibitor MG132. Thus, we demonstrated that CSE1L affected MSH6 protein stability via the proteasome pathway (Supplementary Figure S4). Consequently, these results support the conclusion that CSE1L interacts with MSH6 and functions as a positive regulator of MSH6 protein in osteosarcoma cells.