CSE1L interaction with MSH6 promotes osteosarcoma progression and predicts poor patient survival
ABSTRACT
---
To discover tumor-associated proteins in osteosarcoma, a quantitative proteomic analysis was performed to identify proteins that were differentially expressed between osteosarcoma and human osteoblastic cells. Through clinical screening and a functional evaluation, chromosome segregation 1-like (CSE1L) protein was found to be related to the growth of osteosarcoma cells. To date, little is known about the function and underlying mechanism of CSE1L in osteosarcoma. In the present study, we show that knockdown of CSE1L inhibits osteosarcoma growth in vitro and in vivo. By co-immunoprecipitation and RNA-seq analysis, CSE1L was found to interact with mutS homolog 6 (MSH6) and function as a positive regulator of MSH6 protein in osteosarcoma cells. A rescue study showed that decreased growth of osteosarcoma cells by CSE1L knockdown was reversed by MSH6 overexpression, indicating that the activity of CSE1L was an MSH6-dependent function. In addition, depletion of MSH6 hindered cellular proliferation in vitro and in vivo. Notably, CSE1L expression was correlated with MSH6 expression in tumor samples and was associated with poor prognosis in patients with osteosarcoma. Taken together, our results demonstrate that the CSE1L-MSH6 axis has an important role in osteosarcoma progression.
No MeSH data available.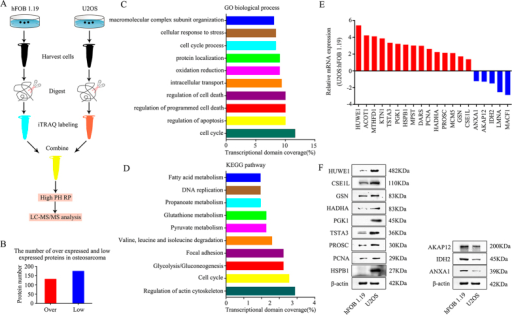 © Copyright Policy - open-access
License
getmorefigures.php?uid=PMC5384328&req=5
Mentions: To determine differentially expressed proteins between osteoblasts and osteosarcoma cells, iTRAQ combined with NanoLC−MS/MS analysis was performed between hFOB 1.19 human osteoblasts and U2OS osteosarcoma cells. In total, 131 upregulated and 174 downregulated proteins were identified and quantified in U2OS cells compared to expression levels in hFOB 1.19 cells (Fig. 1B). We performed GO analysis and KEGG pathway analysis on these differentially expressed proteins. Based on the GO analysis, the main molecular functions identified were cell cycle, regulation of apoptosis, and regulation of programmed cell death (Fig. 1C), whereas the KEGG pathway analysis identified regulation of the actin cytoskeleton, cell cycle, and glycolysis/gluconeogenesis as the major pathways (Fig. 1D). According to PubMed data and our study, we divided the dysregulated proteins into three classes, including proteins that had been reported in osteosarcoma, proteins that had been reported in tumorigenesis but not in osteosarcoma and proteins that had not been reported in tumorigenesis. We could not validate every protein in this study because of the large number of dysregulated proteins. Finally, 20 potential osteosarcoma-associated proteins were selected to further validate the proteomic results. Among the 20 proteins, HUWE1, PCNA, GSN, ANXA1, AKAP12, and IDH2 have major roles in osteosarcoma tumorigenesis121314151617. MTHFD1, TSTA3, PGK1, HSPB1, MPST, HADHA, MCM5, CSE1L, LMNA, and MACF1 have been reported to be involved in tumorigenesis but not in osteosarcoma18192021222324252627. ACOT1, KTN1, DARS, and PROSC have not been reported in tumorigenesis. As shown in Fig. 1E, the mRNA expression levels of these proteins, as measured using qRT-PCR, were consistent with those determined by the proteomic analysis. Because of limited antibodies and the large number of potential candidate proteins (20 proteins), we narrowed down our range of interested candidates to 12 proteins (including 9 upregulated proteins, HUWE1, CSE1L, GSN, HADHA, PGK1, TSTA3, PROSC, PCNA, and HSPB1, and 3 downregulated proteins, AKAP12, IDH2 and ANXA1) to detect the protein expression levels using western blotting. The protein expression levels of these proteins were consistent with those determined by the proteomic analysis (Fig. 1F). The expression of these 9 upregulated proteins was measured using qRT-PCR in 20 human tissue sample pairs in which each pair consisted of an osteosarcoma sample and a corresponding non-tumor tissue sample. The results revealed that mRNA expression of CSE1L was increased in osteosarcoma tissues than in the corresponding non-tumor tissues (Supplementary Figure S1). No differences in mRNA expression were found in the other 8 proteins. However, PCNA and GSN were reported to be overexpressed in osteosarcoma tissues compared with non-tumor tissues1314. We believe that is because, in the present study, the number of samples for clinical screening was small (20 pairs) and because of the existence of tumor heterogeneity. Taken together, the results showed that CSE1L may have an important role in osteosarcoma tumorigenesis and thus warrants further investigation.