Richness in Functional Connectivity Depends on the Neuronal Integrity within the Posterior Cingulate Cortex
ABSTRACT
---
The brain's connectivity skeleton—a rich club of strongly interconnected members—was initially shown to exist in human structural networks, but recent evidence suggests a functional counterpart. This rich club typically includes key regions (or hubs) from multiple canonical networks, reducing the cost of inter-network communication. The posterior cingulate cortex (PCC), a hub node embedded within the default mode network, is known to facilitate communication between brain networks and is a key member of the "rich club." Here, we assessed how metabolic signatures of neuronal integrity and cortical thickness influence the global extent of a functional rich club as measured using the functional rich club coefficient (fRCC). Rich club estimation was performed on functional connectivity of resting state brain signals acquired at 3T in 48 healthy adult subjects. Magnetic resonance spectroscopy was measured in the same session using a point resolved spectroscopy sequence. We confirmed convergence of functional rich club with a previously established structural rich club. N-acetyl aspartate (NAA) in the PCC is significantly correlated with age (p = 0.001), while the rich club coefficient showed no effect of age (p = 0.106). In addition, we found a significant quadratic relationship between fRCC and NAA concentration in PCC (p = 0.009). Furthermore, cortical thinning in the PCC was correlated with a reduced rich club coefficient after accounting for age and NAA. In conclusion, we found that the fRCC is related to a marker of neuronal integrity in a key region of the cingulate cortex. Furthermore, cortical thinning in the same area was observed, suggesting that both cortical thinning and neuronal integrity in the hub regions influence functional integration of at a whole brain level.
No MeSH data available.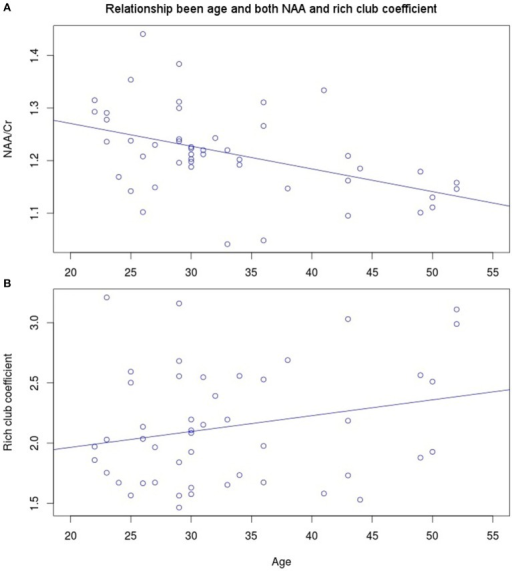 © Copyright Policy
License
getmorefigures.php?uid=PMC5384321&req=5
Mentions: NAA in the PCC negatively correlated with age (Figure 3A, r = −0.456, p = 0.001, t = −3.475, df = 46), while no significant correlation exists between rich club coefficient and age (r = 0.2356, p = 0.107, t = 1.644, df = 46, Figure 3B). Furthermore, a significant quadratic relationship was identified between RCC and NAA/Cr in the PCC (Equation 1, Figure 4, p = 0.009). This relationship was not observed using a linear model (r = −0.041, p = 0.093, t = −1.708, df = 46). The model fit was formally tested using the bayesian information criterion (BIC), which revealed that a quadratic model fit the data better than a linear model (delta BIC = −3.16) or any higher order polynomial (Figure S3). Linear correlates between low and high RCC values were assessed post hoc. The data were split into two groups, below the RCC value predicted to give the lowest concentration of NAA/Cr (2.44), and above this value. A negative linear correlation was observed in the low RCC values (r = −0.365, p = 0.036, t = −2.185, df = 31), while a trending positive linear correlation was observed in the high RCC values (r = 0.473, p = 0.075, t = 1.935, df = 13). Using a Fisher R-to-Z transformation, these two correlations were significantly different (z = −2.62, p = 0.009, Figure S4). In contrast this did not translate into dependency of global metrics (SWI and CC), which did not correlate with PCC-NAA.