Systemic analysis of osteoblast-specific DNA methylation marks reveals novel epigenetic basis of osteoblast differentiation
ABSTRACT
---
DNA methylation is an important epigenetic modification that contributes to the lineage commitment and specific functions of different cell types. In this study, we compared ENCODE-generated genome-wide DNA methylation profiles of human osteoblast with 21 other types of human cells in order to identify osteoblast-specific methylation events. For most of the cell strains, data from two isogenic replicates were included, resulting in a total of 51 DNA methylation datasets. We identified 852 significant osteoblast-specific differentially methylated CpGs (DMCs) and 295 significant differentially methylated regions (DMRs). Significant DMCs/DMRs were not enriched in CpG islands (CGIs) and promoters, but more strongly enriched in CGI shores/shelves and in gene body and intergenic regions. The genes associated with significant DMRs were highly enriched in biological processes related to transcriptional regulation and critical for regulating bone metabolism and skeletal development under physiologic and pathologic conditions. By integrating the DMR data with the extensive gene expression and chromatin epigenomics data, we observed complex, context-dependent relationships between DNA methylation, chromatin states, and gene expression, suggesting diverse DNA methylation-mediated regulatory mechanisms. Our results also highlighted a number of novel osteoblast-relevant genes. For example, the integrated evidences from DMR analysis, histone modification and RNA-seq data strongly support that there is a novel isoform of neurexin-2 (NRXN2) gene specifically expressed in osteoblast. NRXN2 was known to function as a cell adhesion molecule in the vertebrate nervous system, but its functional role in bone is completely unknown and thus worth further investigation. In summary, we reported a comprehensive analysis of osteoblast-specific DNA methylation profiles and revealed novel insights into the epigenetic basis of osteoblast differentiation and activity.
No MeSH data available.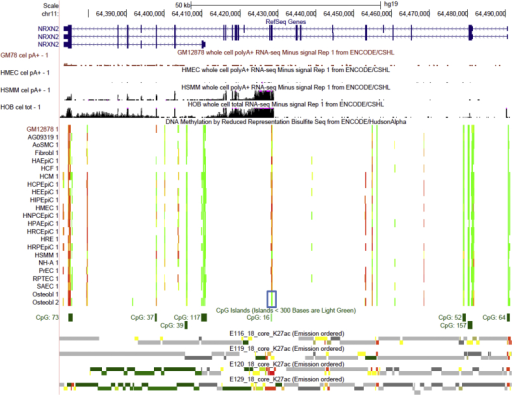 © Copyright Policy - CC BY
License
getmorefigures.php?uid=PMC5384298&req=5
Mentions: Another potential connection between osteoblast-associated DMR and cell-type specific isoform expression was detected in NRXN2 gene. NRXN2 gene encodes a member of the neurexin gene family and has very complex transcription architecture. Though RefSeq annotates only 3 representative transcripts (Fig. 6), the alternative transcription of this genes is likely to be far more complicated, with 31 (annotated by NCBI Homo sapiens Annotation Release 107, Supplementary Fig. 7) and possibly thousands of alternative isoforms generated through the usage of multiple alternative promoters and extensive alternative splicing events (Tabuchi and Sudhof, 2002, Rowen et al., 2002). Specifically, we identified a significant, osteoblast-associated hypomethylated DMR (q-value = 1.58 × 10− 51, DM% = − 64.8%) spanning 8 CpGs in the exon 10 of the NRXN2 RefSeq transcript variant alpha-1 (Fig. 6). Similar hypomethylation was also observed in HSMM, whereas almost all the other cell types exhibited hypermethylation in this region (Fig. 6). Interestingly, the ENCODE RNA-seq data indicate that a specific NRXN2 isoform initiating from the immediate upstream of the exon 10 is highly expressed in osteoblast and HSMM, but not detected in LCL and HMEC (Fig. 6). Though the mRNA transcript of this specific isoform delineated by RNA-seq does not match any of the three RefSeq transcripts, it is consistent with the predicted NRXN2 transcript variant X29 (XM_011545385.1) by the NCBI annotation (Supplementary Fig. 7), strongly supporting the authentic and predominant expression of this transcript variant in osteoblast and HSMM. Moreover, there were strong signals of active promoter-like (H3K4me3 and H3K27ac) and transcriptional activity-associated (H3K79me2) chromatin states around the DMR in osteoblast and HSMM, whereas these histone modification marks were depleted around the DMR in cell types that did not express this isoform, such as LCL and HMEC (Supplementary Fig. 7). These results strongly support that the intragenic DNA methylation may have a crucial role in regulating cell context-specific alternative promoters in gene bodies (Maunakea et al., 2010).