Systemic analysis of osteoblast-specific DNA methylation marks reveals novel epigenetic basis of osteoblast differentiation
ABSTRACT
---
DNA methylation is an important epigenetic modification that contributes to the lineage commitment and specific functions of different cell types. In this study, we compared ENCODE-generated genome-wide DNA methylation profiles of human osteoblast with 21 other types of human cells in order to identify osteoblast-specific methylation events. For most of the cell strains, data from two isogenic replicates were included, resulting in a total of 51 DNA methylation datasets. We identified 852 significant osteoblast-specific differentially methylated CpGs (DMCs) and 295 significant differentially methylated regions (DMRs). Significant DMCs/DMRs were not enriched in CpG islands (CGIs) and promoters, but more strongly enriched in CGI shores/shelves and in gene body and intergenic regions. The genes associated with significant DMRs were highly enriched in biological processes related to transcriptional regulation and critical for regulating bone metabolism and skeletal development under physiologic and pathologic conditions. By integrating the DMR data with the extensive gene expression and chromatin epigenomics data, we observed complex, context-dependent relationships between DNA methylation, chromatin states, and gene expression, suggesting diverse DNA methylation-mediated regulatory mechanisms. Our results also highlighted a number of novel osteoblast-relevant genes. For example, the integrated evidences from DMR analysis, histone modification and RNA-seq data strongly support that there is a novel isoform of neurexin-2 (NRXN2) gene specifically expressed in osteoblast. NRXN2 was known to function as a cell adhesion molecule in the vertebrate nervous system, but its functional role in bone is completely unknown and thus worth further investigation. In summary, we reported a comprehensive analysis of osteoblast-specific DNA methylation profiles and revealed novel insights into the epigenetic basis of osteoblast differentiation and activity.
No MeSH data available.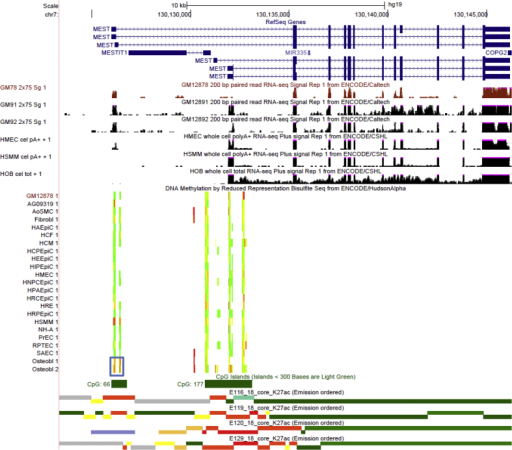 © Copyright Policy - CC BY
License
getmorefigures.php?uid=PMC5384298&req=5
Mentions: MEST (mesoderm specific transcript) is a member of the α/β hydrolase fold family and may play a role in development, including bone growth (Andrade et al., 2010). MEST gene has multiple, complicated mRNA isoforms, including 6 RefSeq annotates and at least 17 alternative mRNA variants identified by AceView program (Thierry-Mieg and Thierry-Mieg, 2006). The 6 RefSeq MEST annotates resulted from the usage of 4 alternative promoters/TSSs and 2 alternatively spliced exons (Fig. 5). Interestingly, we detected a significant osteoblast-associated hypermethylated DMR (q-value = 1.47 × 10− 39, DM% = 55.9%) overlapping one of the alternative promoters/TSSs that encode RefSeq transcript variants 2 and 5 (Fig. 5). CpGs within this DMR exhibited strong methylation in osteoblast and HSMM, but are largely unmethylated in other cell types, including LCL and HMEC (Fig. 5). The ENCODE RNA-seq data indicate that there are considerable transcription signals of MEST from this alternative TSS in LCL and HMEC, suggesting the expression of RefSeq transcript variants 2 and/or 5 in LCL and HMEC. In contrast, these two MEST alternative transcripts were barely detectable in osteoblast and HSMM (Fig. 5), for which MEST RefSeq transcript variants 1 and/or 4 are dominant. Consistently, there are strong active promoter/enhancer (H3K4me1 and H3K4me3) signals at this DMR-overlapped alternative TSS in LCL and HMEC, but not in osteoblast and HSMM (Fig. 5 and Supplementary Fig. 6). Interestingly, MEST is known to exhibit isoform-specific imprinting (Kosaki et al., 2000, Huntriss et al., 2013, Kamei et al., 2007) and the promoter switching may lead to loss of imprinting and aberrant expression of MEST gene, which has been linked to several types of cancers (Pedersen et al., 2002, Nestheide et al., 2013, Li et al., 2008). Particularly, aberrant expression of MEST gene has been detected in human osteoblast cell lines (hFOB1.19 cells) in a model of human osteosarcoma (Li et al., 2008). Taken together, DNA methylation may represent a critical epigenetic mechanism for regulation of alternative promoter usage at MEST gene in a cell-type specific manner, and dysregulation of this epigenetic mechanism may contribute to the pathogenesis of MEST loss-of-imprinting associated disorders.