A staged screening of registered drugs highlights remyelinating drug candidates for clinical trials
ABSTRACT
---
There is no treatment for the myelin loss in multiple sclerosis, ultimately resulting in the axonal degeneration that leads to the progressive phase of the disease. We established a multi-tiered platform for the sequential screening of drugs that could be repurposed as remyelinating agents. We screened a library of 2,000 compounds (mainly Food and Drug Administration (FDA)-approved compounds and natural products) for cellular metabolic activity on mouse oligodendrocyte precursors (OPC), identifying 42 molecules with significant stimulating effects. We then characterized the effects of these compounds on OPC proliferation and differentiation in mouse glial cultures, and on myelination and remyelination in organotypic cultures. Three molecules, edaravone, 5-methyl-7-methoxyisoflavone and lovastatin, gave positive results in all screening tiers. We validated the results by retesting independent stocks of the compounds, analyzing their purity, and performing dose-response curves. To identify the chemical features that may be modified to enhance the compounds' activity, we tested chemical analogs and identified, for edaravone, the functional groups that may be essential for its activity. Among the selected remyelinating candidates, edaravone appears to be of strong interest, also considering that this drug has been approved as a neuroprotective agent for acute ischemic stroke and amyotrophic lateral sclerosis in Japan.
No MeSH data available.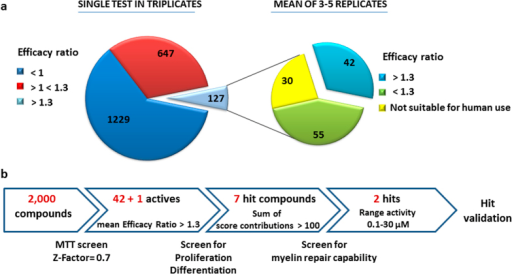 © Copyright Policy - open-access
License
getmorefigures.php?uid=PMC5384285&req=5
Mentions: We selected the 2,000 compounds of the Spectrum Collection library to test for the development of OPC into myelin forming oligodendrocytes. Since OPC development is a process that demands high-energy, compounds were first screened for cellular metabolic activity in mouse purified OPC cultures by the MTT assay, a rapid colorimetric test of cell reducing activity (Z-factor = 0.7). Differences in OPC ability to reduce the tetrazolium salt MTT may be due to an effect of compounds on viability, proliferation or differentiation, all of which are important components of the remyelination process. Each compound was screened once in triplicates and an MTT value was quantified by an Efficacy Ratio defined as: ER = absorbance of drug/absorbance of vehicle. Platelet derived growth factor (PDGF, 20 ng/ml) and tri-iodothyronin (T3, 30 ng/ml) and thyroxine (T4, 40 ng/ml), known inducers of OPC proliferation and differentiation, respectively, were used as positive controls (PDGF ER = 1.4 ± 0.08 and T3 + T4 ER = 1.3 ± 0.05; mean ± SEM of 5 experiments run in triplicates). On the basis of the effect of both positive controls, we defined a threshold of ER = 1.3, singling out 127 positive compounds that were further analyzed in 3–5 experiments to confirm their activity (Fig. 1a). These experiments allowed for the identification of 42 compounds presenting a mean ER value ≥ 1.3 and are suitable for human use in their present chemical form (Table 1). This set included known classes of pharmaceutical drugs such as anti-inflammatory agents, vasodilators, antibacterials, antihypertensive agents, steroids, natural products as flavonoids, and others. Among these, 5-methyl-7-methoxyisoflavone which was incorrectly stated as methoxyvone in the Spectrum Collection library (see "Quality control" paragraph in validation section). Lovastatin, a drug that presented a mean value of ER = 1.23 ± 0.1 but with a demonstrated activity on OPC differentiation and myelin formation2324 was added to this list to provide a convenient internal control for the screening. Moreover, statins are in an advanced phase of clinical evaluation in the therapy of multiple sclerosis alone or in combination with other drugs (www.clinicaltrials.gov).