Calcium oxalate crystals and oxalate induce an epithelial-to-mesenchymal transition in the proximal tubular epithelial cells: Contribution to oxalate kidney injury
ABSTRACT
---
TGF-β1 is the main mediator of epithelial-to-mesenchymal transition (EMT). Hyperoxaluria induces crystalluria, interstitial fibrosis, and progressive renal failure. This study analyzed whether hyperoxaluria is associated with TGF-β1 production and kidney fibrosis in mice and if oxalate or calcium oxalate (CaOx) could induce EMT in proximal tubule cells (HK2) and therefore contribute to the fibrotic process. Hyperoxaluria was induced by adding hydroxyproline and ethylene glycol to the mice's drinking water for up to 60 days. Renal function and oxalate and urinary crystals were evaluated. Kidney collagen production and TGF-β1 expression were assessed. EMT was analyzed in vitro according to TGF-β1 production, phenotypic characterization, invasion, cell migration, gene and protein expression of epithelial and mesenchymal markers. Hyperoxaluric mice showed a decrease in renal function and an increase in CaOx crystals and Ox urinary excretion. The deposition of collagen in the renal interstitium was observed. HK2 cells stimulated with Ox and CaOx exhibited a decreased expression of epithelial as well as increased expression mesenchymal markers; these cells presented mesenchymal phenotypic changes, migration, invasiveness capability and TGF-β1 production, characterizing EMT. Treatment with BMP-7 or its overexpression in HK2 cells was effective at preventing it. This mechanism may contribute to the fibrosis observed in hyperoxaluria.
No MeSH data available.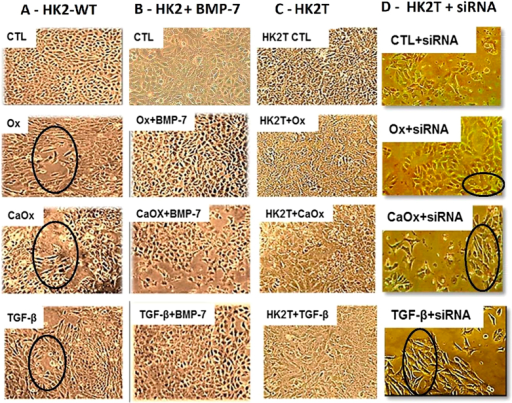 © Copyright Policy - open-access
License
getmorefigures.php?uid=PMC5384284&req=5
Mentions: Figure 4 displays the phenotypic characteristics of HK2 cells wild type (HK2-WT, column A), treated with exogenous BMP-7 (HK2 + BMP-7, column B), transfected with BMP-7 gene (HK2T, column C) and HK2T unstable transfected with BMP-7 (HK2T + siRNA, column D) exposed to Ox, CaOx, and TGF-β1. The stimulation with Ox, CaOx and TGF-β1 significantly changed the phenotypic characteristics of HK2-WT in comparison to control situation (Column A circled area). The control cells had a very clear and round boundary with individual cells abutting each other in a uniform array. There were also adhesions between neighboring cells. The stimulation of tubular proximal cells with Ox, CaOx and TGF-β1 induced significant morphological changes in these cells from a cobblestone-like monolayer of epithelial cells to the dispersed, spindle-shaped cells with migratory protrusions. In contrast, in HK2 cells that had been previously treated with BMP-7 (HK2 + BMP-7) or HK2T (Column B and C), only a few morphological differentiations were observed, even in the presence of Ox, CaOx and TGF-β1. This result suggests that the overexpression or the treatment with BMP-7 was effective at inhibit the mesenchymal phenotype induction. Additionally, when HK2T cells were unstable transfected with BMP-7 siRNA, blunting BMP-7 overexpression, they were able to change their morphology in the presence of Ox, CaOx and TGF-β1 (Column D, circled area).