Disulfide-induced self-assembled targets: A novel strategy for the label free colorimetric detection of DNAs/RNAs via unmodified gold nanoparticles
ABSTRACT
---
A modified non-cross-linking gold-nanoparticles (Au-NPs) aggregation strategy has been developed for the label free colorimetric detection of DNAs/RNAs based on self-assembling target species in the presence of thiolated probes. Two complementary thiol- modified probes, each of which specifically binds at one half of the target introduced SH groups at both ends of dsDNA. Continuous disulfide bond formation at 3′ and 5′ terminals of targets leads to the self-assembly of dsDNAs into the sulfur- rich and flexible products with different lengths. These products have a high affinity for the surface of Au-NPs and efficiently protect the surface from salt induced aggregation. To evaluate the assay efficacy, a small part of the citrus tristeza virus (CTV) genome was targeted, leading to a detection limit of about 5 × 10−9 mol.L−1 over a linear ranged from 20 × 10−9 to 10 × 10−7 mol.L−1. This approach also exhibits good reproducibility and recovery levels in the presence of plant total RNA or human plasma total circulating RNA extracts. Self-assembled targets can be then sensitively distinguished from non-assembled or mismatched targets after gel electrophoresis. The disulfide reaction method and integrating self-assembled DNAs/RNAs targets with bare AuNPs as a sensitive indicator provide us a powerful and simple visual detection tool for a wide range of applications.
No MeSH data available.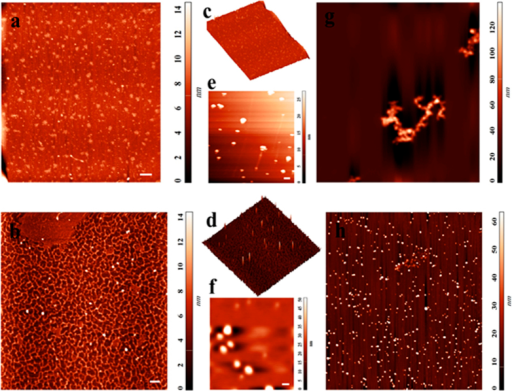 © Copyright Policy - open-access
License
getmorefigures.php?uid=PMC5384278&req=5
Mentions: In order to confirm the hypothesis of DNA self assembly in the presence of thiolated probes, and to assess whether stability of modified AuNPs in high salt condition depends upon the self assembeled products scanning probe microscopy with Atomic Force Microscopy (AFM) has been carried out on samples (Fig. 3). AFM spectroscopy is expected to confirm these interpretations by direct imaging of surface topographies. As shown in Fig. 3b,d the AFM results indicate that incubation of DNA target with thiolated probes led to formation of a network of DNA strands with different length. However, in the absence of template (DNA target) thiolated probes did not induce any supermolecular structure and remain barely visible in AFM images (Fig. 3a,c). Then to provide a comparison between two sets of modified AuNPs (Blank & Test sample) "particle analysis" in the AFM software was used to estimate the particles dimensions. As seen in AFM images (Fig. 3e,f), AuNPs are covered with self assembled DNAs have larger dimensions with a mean diameter of 71 nm in comparison to AuNPs in normal conditions (without DNA target, covered with thiolated probes) with a mean diameter of 37 nm. These results are in good agreement with data from our DLS analysis (Fig. 2c), indicating that disulfide rich assembled products were efficiently layered the surface of AuNPs. Also, in view of the more complete shielding of particles in the presence of self assembled DNAs, AuNPs maintain well dispersion in high salt solution without aggregation (Fig. 3h). These results arise from the higher zeta potential of AuNPs being modified with self assembled DNAs, preventing salt induced aggregation due to the repulsion forces. Of note, modification of the AuNPs with thiolated probes, leads to formation of less protective layer of DNA because of a thinner and losser coating, and thus nanoparticle aggregation occurs because of decreased electrostatic repulsion and increased attractive van der Waals forces (Fig. 3g). Afterwards to provide some additional evidence another experiments were conducted to better clarify the basic concept. At first, a polyacrylamide gel of 15% was run to examine whether the continuous disulfide bond formation at 3′ and 5′ ends of DNA targets leads to the formation of different self-assembled structures with different in size (Fig. 4a). As depicted in Fig. 3a (lane 1), a heavy DNA smear, which was an indication of the high amount of DNA fragments with very close molecular weights appeared on the gel for the mixture of thiolated probes and DNA targets. However, when this mixture was treated with Dithiothreitol (DTT) as a reducing agent and subsequently loaded on the gel, only a sharp single band with a length of 30 bp (which was identical to the length of the DNA target) was observed in Fig. 3a (lane 3). In addition, there was no DNA smear in samples containing thiolated probes alone (without DNA target) on the gel (Fig. 4a, lane 2). So, in this respect, strong accordance was found between DNA migration patterns on gel electrophoresis and those obtained by use of AFM imaging (Fig. 3).