Transgenic mouse model for imaging of ATF4 translational activation-related cellular stress responses in vivo
ABSTRACT
---
Activating transcription factor 4 (ATF4) is a translationally activated protein that plays a role in cellular adaptation to several stresses. Because these stresses are associated with various diseases, the translational control of ATF4 needs to be evaluated from the physiological and pathological points of view. We have developed a transgenic mouse model to monitor the translational activation of ATF4 in response to cellular stress. By using this mouse model, we were able to detect nutrient starvation response, antivirus response, endoplasmic reticulum (ER) stress response, and oxidative stress in vitro and ex vivo, as well as in vivo. The reporter system introduced into our mouse model was also shown to work in a stress intensity-dependent manner and a stress duration-dependent manner. The mouse model is therefore a useful tool for imaging ATF4 translational activation at various levels, from cell cultures to whole bodies, and it has a range of useful applications in investigations on the physiological and pathological roles of ATF4-related stress and in the development of clinical drugs for treating ATF4-associated diseases.
No MeSH data available.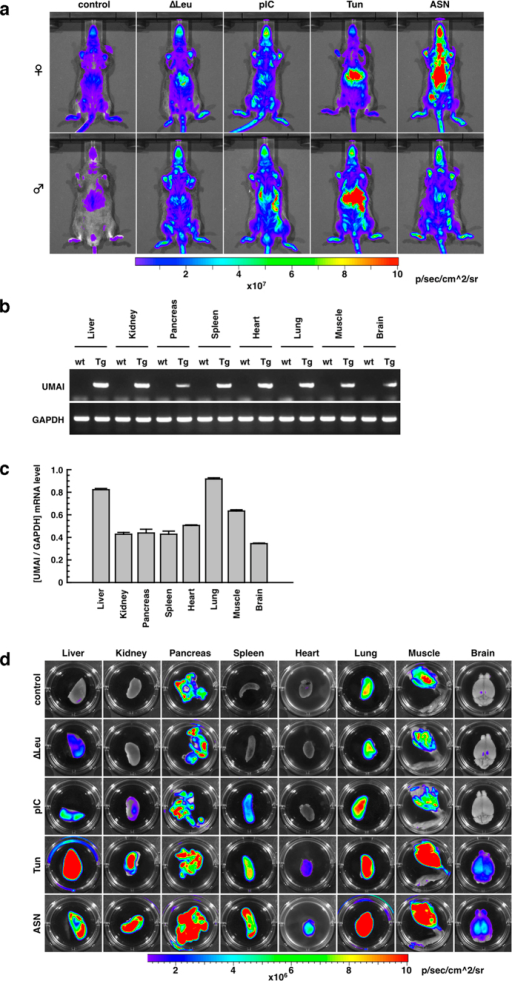 © Copyright Policy - open-access
License
getmorefigures.php?uid=PMC5384252&req=5
Mentions: By microinjection of the UMAI construct into approximately 400 fertilized mouse eggs, we generated 27 UMAI transgenic mice (F0). Seven of these F0 mice had transgenic-positive offspring, but the other line did not. Offspring derived from the seven F0 mice were maintained as individual lines and analysed for in vivo imaging of the ISR. Six lines of these unexpectedly showed stronger luminescence signals under normal condition or weaker luminescence signals under stress conditions. One line, however, showed lower luminescence signals under normal conditions and higher luminescence signals under stress conditions (Fig. 4a). Expression of the UMAI mRNA in this mouse line was evaluated by RT-PCR analysis and by quantitative PCR analysis; these showed that the UMAI mRNA was expressed in all the examined organs, even under normal conditions (Fig. 4b), and that the expression level of the UMAI mRNA remained within a factor of three among these organs (Fig. 4c). From these results, we consider that this UMAI mouse line is a potential animal resource for investigating the ISR in vivo. Ex vivo analysis of the transgenic line also revealed significant UMAI activity under normal conditions, and stress-dependent differences in UMAI activity. In particular, under normal conditions, the pancreas, muscle, and lung collected from UMAI transgenic mice showed bright signals compared with the other organs. A Leu (−) diet modestly increased the UMAI activity of the liver, but had little effect on other organs. Administration of pIC also had moderately increased the UMAI activity of the liver, kidney, spleen, and lung, but had little effect on the pancreas, heart, muscle, or brain. On treatment with Tun and ASN, UMAI activity was robustly displayed in all the examined organs (Fig. 4d). These features of UMAI activity in vivo and ex vivo were also sustained in other generations (Figs S4 and S5), and were well correlated with endogenous ATF4 protein level and endogenous eIF2α phosphorylation level (Fig. S6).