Transgenic mouse model for imaging of ATF4 translational activation-related cellular stress responses in vivo
ABSTRACT
---
Activating transcription factor 4 (ATF4) is a translationally activated protein that plays a role in cellular adaptation to several stresses. Because these stresses are associated with various diseases, the translational control of ATF4 needs to be evaluated from the physiological and pathological points of view. We have developed a transgenic mouse model to monitor the translational activation of ATF4 in response to cellular stress. By using this mouse model, we were able to detect nutrient starvation response, antivirus response, endoplasmic reticulum (ER) stress response, and oxidative stress in vitro and ex vivo, as well as in vivo. The reporter system introduced into our mouse model was also shown to work in a stress intensity-dependent manner and a stress duration-dependent manner. The mouse model is therefore a useful tool for imaging ATF4 translational activation at various levels, from cell cultures to whole bodies, and it has a range of useful applications in investigations on the physiological and pathological roles of ATF4-related stress and in the development of clinical drugs for treating ATF4-associated diseases.
No MeSH data available.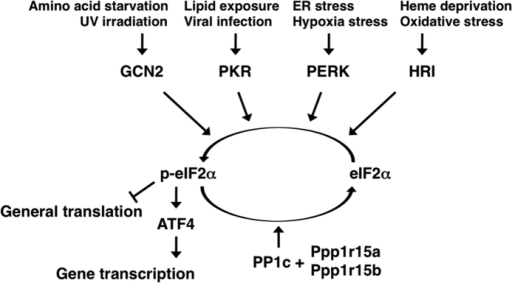 © Copyright Policy - open-access
License
getmorefigures.php?uid=PMC5384252&req=5
Mentions: ATF4 (also known as C/ATF, CREB-2, mTR67, or TAXCREB67) belongs to the activating transcription factor (ATF)/cyclic AMP responsive element binding (CREB) family of proteins, which contains a basic leucine zipper domain and recognizes the consensus DNA sequences TGACGT(C/A)(G/A)1. The molecular function of mammalian ATF4 is mainly in controlling the expression of several specific genes associated with stress response, homeostasis, development, fertility, and memory2. ATF4 mRNA is expressed in all tissues examined so far345; however, its expression levels are regulated by a variety of extracellular signals in different cell types6789101112. The expression level of ATF4 protein is also regulated by two mechanisms: translational control and stability control. ATF4 stability is modulated by the SCFβTrCP class of ubiquitin ligase13 and by histone acetyl-transferase p30014. ATF4 translation is induced by phosphorylation of the eukaryotic initiation factor 2α (eIF2α) as follows. ATF4 mRNA contains two or three upstream open reading frames (uORFs), so that a low level of phosphorylated eIF2α leads to translational initiation at the first uORF (uORF1) and reinitiation at the second uORF (uORF2) or third uORF (uORF3). Translational initiation and reinitiation at these uORFs also inhibit the production of ATF4 protein, because the last uORF overlaps with the coding region. However, a high level of phosphorylated eIF2α leads to slow formation of the translational initiation complex and scans through uORF2 or uORF3, resulting in reinitiation at the ORF encoding ATF41516. Phosphorylation of eIF2α is catalysed by at least four kinases: general control nonderepressible 2 (GCN2), protein kinase RNA-activated (PKR), PKR-like ER kinase (PERK), and heme-regulated inhibitor kinase (HRI)17. Each kinase responds to a distinct type of stress, as shown in Fig. 1. For this reason, the eIF2α-ATF4 signalling pathway is referred to as the integrated stress response (ISR)18. A high level of phosphorylated eIF2α leads to not only translational induction of ATF4, but also to global repression of protein synthesis19. On the other hand, dephosphorylation of eIF2α is regulated by protein phosphatase 1 regulatory subunits 15a and 15b2021.