Identification of a variant-specific phosphorylation of TH2A during spermiogenesis
ABSTRACT
---
Tissue-specific histone variant incorporation into chromatin plays dynamic and important roles in tissue development. Testis is one such tissue, and a number of testis-specific histone variants are expressed that have unique roles. While it is expected that such variants acquire post-transcriptional modifications to be functional, identification of variant-specific histone modifications is challenging because of the high similarity of amino acid sequences between canonical and variant versions. Here we identified a novel phosphorylation on TH2A, a germ cell-specific histone H2A variant. TH2A-Thr127 is unique to the variant and phosphorylated concomitant with chromatin condensation including spermiogenesis and early embryonic mitosis. In sperm chromatin, phosphorylated TH2A-Thr127 (=pTH2A) is co-localized with H3.3 at transcriptional starting sites of the genome, and subsequently becomes absent from the paternal genome upon fertilization. Notably, pTH2A is recurrent and accumulated in the pericentromeric heterochromatin of both paternal and maternal chromosomes in the first mitosis of embryos, suggesting its unique regulation during spermiogenesis and early embryogenesis.
No MeSH data available.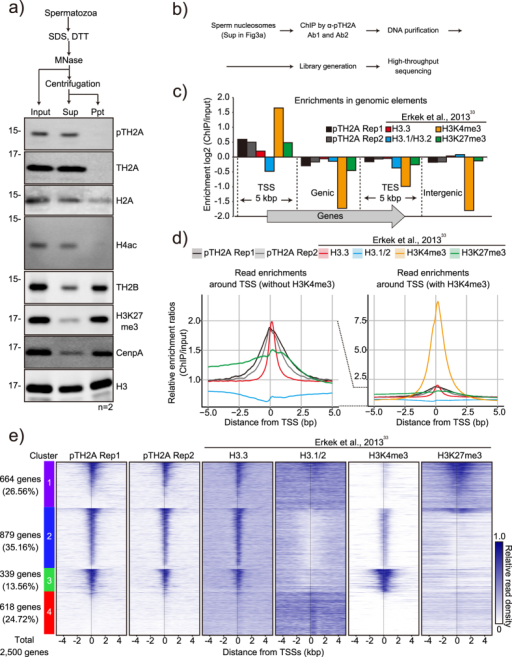 © Copyright Policy - open-access
License
getmorefigures.php?uid=PMC5384234&req=5
Mentions: The unique behavior of pTH2A, which is acquired in the very last step of spermiogenesis, may suggest its specific roles in mature sperm and/or fertilized embryos. Therefore, we next investigated where pTH2A occurred in the sperm genome, and performed chromatin immunoprecipitation-sequencing (ChIP-seq) analysis. Biochemical solubilization of sperm chromatin was performed by treatment with a high concentration of DTT and MNase based on previous publications3233 (also see Methods), followed by fractionation by centrifugation (Fig. 3a). Western blot analyses demonstrated that both pTH2A and TH2A, as well as acetylated H4, were enriched in the supernatant, while TH2B, H3K27me3 and CENP-A were mainly observed in the pellet (Figs 3a and S5e). This suggests that TH2A and TH2B possess distinct biochemical properties in sperm, and that TH2A-containing nucleosomes are more sensitive to MNase treatment. Canonical H2A exhibited modest enrichment in the supernatant but was also retained in the pellet (Fig. 3a). The supernatant fraction was subjected to ChIP-seq analyses using anti-pTH2A antibody to further identify the localization of pTH2A in the sperm genome (Fig. 3b). To assure the specificity of our antibody and the reproducibility of the experiments, both antibody #1 (Ab1, Rep 2) and #2 (Ab2, Rep 1), obtained from different rabbits, were used as replicates for immunoprecipitation (Fig. S2a–d). Proper immunoprecipitation of pTH2A by both anti-pTH2A Ab1 and Ab2 was also confirmed by western blot analysis (Figs S4a and S5f). Existence of ~150 bp bands corresponding to mono-nucleosomal DNA, as well as to some low-molecular weight DNA (~130 bp and less), was confirmed in inputs (which is Sup in Fig. 3a), and these were equally immunoprecipitated by anti-pTH2A Ab1 and Ab2 (Fig. S4b, upper panel). Single ~280 bp DNA bands were obtained by library preparation (Fig. S4b, lower panel) and sequenced. ChIP reads from replication 1 and 2 correlated significantly with each other (R = 0.890, Fig. S4c). For data analyses, the dataset of ChIP-seq from Erkek et al.33 containing H3.3, H3.1/3.2, H3K4me3, and H3K27me3 was included as a comparison. The results demonstrated a remarkable enrichment of pTH2A around TSS ±5 kb; the enrichment level was similar to H3.3 and much lower than H3K4me3 (Fig. 3c,d). No preferential distribution of pTH2A among transcriptional ending sites (TES), genic, and intergenic regions was observed (Fig. 3c). Gene ontology (GO) analysis of pTH2A-enriched genes exhibited significant enrichment in GO terms related to development and morphogenesis (system development, anatomical structure morphogenesis, organ development, etc.) and metabolism (regulation of biosynthetic processes, regulation of metabolic processes, etc.; Fig. S4d). RNA metabolism and positive transcriptional regulation, while not GO terms related to reproduction or spermatogenesis, were enriched (Fig. S4d). Heat map analysis to ascertain the co-relationships between pTH2A and H3 variants/modifications in 2,500 randomly selected genes exhibited four distinct clusters as shown in Fig. 3e. It also demonstrated co-enrichment of pTH2A and H3.3 in TSSs in three clusters (Cluster 1, 2, and 3; 1,882/2,500 genes, 75.28%), suggesting a marked overlap between pTH2A and H3.3 in the sperm genome (Fig. 3e). In Cluster 2 and 3, pTH2A and H3.3 were co-localized with H3K4me3 (Fig. 3e, Cluster 2 and 3, 35.16% and 13.56%, respectively). H3K4me3 was more enriched in Cluster 3 than in Cluster 2, while H3.1/2 was excluded from TSSs in both clusters (Fig. 3e). In contrast, in Cluster 1, pTH2A and H3.3 were preferentially co-localized with H3K27me3 rather than H3K4me3 (Fig. 3e, Cluster 1, 26.56%). Cluster 4 (24.72%) exhibited no substantial enrichment in any of the examined histones and modifications. Collectively, our ChIP-seq analyses demonstrated the substantial enrichment of sperm-retained pTH2A around TSSs, and showed that pTH2A behaved similarly to H3.3 when the sperm chromatin was solubilized by high DTT and MNase conditions.