Large-scale SNP discovery and construction of a high-density genetic map of Colossoma macropomum through genotyping-by-sequencing
ABSTRACT
---
Colossoma macropomum, or tambaqui, is the largest native Characiform species found in the Amazon and Orinoco river basins, yet few resources for genetic studies and the genetic improvement of tambaqui exist. In this study, we identified a large number of single-nucleotide polymorphisms (SNPs) for tambaqui and constructed a high-resolution genetic linkage map from a full-sib family of 124 individuals and their parents using the genotyping by sequencing method. In all, 68,584 SNPs were initially identified using minimum minor allele frequency (MAF) of 5%. Filtering parameters were used to select high-quality markers for linkage analysis. We selected 7,734 SNPs for linkage mapping, resulting in 27 linkage groups with a minimum logarithm of odds (LOD) of 8 and maximum recombination fraction of 0.35. The final genetic map contains 7,192 successfully mapped markers that span a total of 2,811 cM, with an average marker interval of 0.39 cM. Comparative genomic analysis between tambaqui and zebrafish revealed variable levels of genomic conservation across the 27 linkage groups which allowed for functional SNP annotations. The large-scale SNP discovery obtained here, allowed us to build a high-density linkage map in tambaqui, which will be useful to enhance genetic studies that can be applied in breeding programs.
No MeSH data available.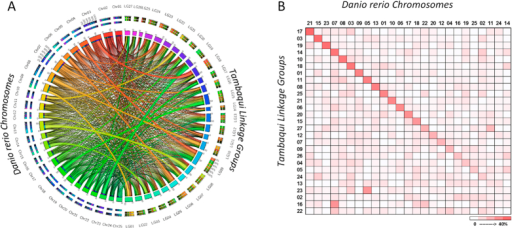 © Copyright Policy - open-access
License
getmorefigures.php?uid=PMC5384230&req=5
Mentions: Out of the 7,192 SNP markers mapped to the linkage map, 1,237 markers that contained sequences were successfully aligned against the zebrafish genome (Fig. 3). The synteny analysis between tambaqui and zebrafish showed variable levels of genomic conservation across the 27 linkage groups. Most tambaqui linkage groups showed a relationship with homologous zebrafish chromosomes. Through comparative analysis, a high level of genomic conservation was found between tambaqui and zebrafish for most linkage groups. For instance, more than 30% of the SNPs mapped in LGs 17, 3, 19, 14, 10, 18, 1, 11, 8, 25, 21, 6, 20, and 15 of tambaqui were aligned on zebrafish chromosomes 21, 15, 23, 7, 8, 3, 9, 5, 13, 1, 10, 6, 17, and 18, respectively, suggesting orthologous chromosomal relationships. Zebrafish chromosome 7 corresponded to tambaqui LGs 14 and 16, while zebrafish chromosome 5 corresponded to LGs 11 and 23 in tambaqui. LG 27 in tambaqui had a similar level of consensus between homologous chromosomes 11 and 22 in zebrafish. However, LGs 2, 4, 5, 13, 22, 24, and 26 in tambaqui appear scattered among several chromosomes, suggesting large-scale chromosomal rearrangements between species.