Monocytic and granulocytic myeloid derived suppressor cells differentially regulate spatiotemporal tumour plasticity during metastatic cascade
ABSTRACT
---
It is widely accepted that dynamic and reversible tumour cell plasticity is required for metastasis, however, in vivo steps and molecular mechanisms are poorly elucidated. We demonstrate here that monocytic (mMDSC) and granulocytic (gMDSC) subsets of myeloid-derived suppressor cells infiltrate in the primary tumour and distant organs with different time kinetics and regulate spatiotemporal tumour plasticity. Using co-culture experiments and mouse transcriptome analyses in syngeneic mouse models, we provide evidence that tumour-infiltrated mMDSCs facilitate tumour cell dissemination from the primary site by inducing EMT/CSC phenotype. In contrast, pulmonary gMDSC infiltrates support the metastatic growth by reverting EMT/CSC phenotype and promoting tumour cell proliferation. Furthermore, lung-derived gMDSCs isolated from tumour-bearing animals enhance metastatic growth of already disseminated tumour cells. MDSC-induced 'metastatic gene signature' derived from murine syngeneic model predicts poor patient survival in the majority of human solid tumours. Thus spatiotemporal MDSC infiltration may have clinical implications in tumour progression.
No MeSH data available.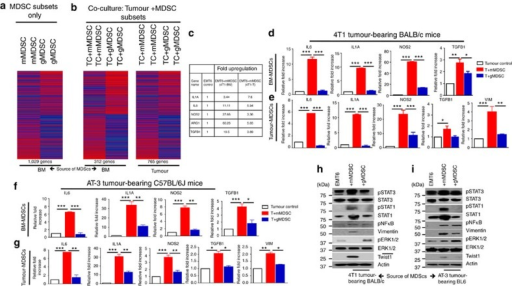 © Copyright Policy - open-access
License
getmorefigures.php?uid=PMC5384228&req=5
Mentions: To determine MDSC-induced global gene expression profile, we performed mouse transcriptome analyses. MDSC subsets derived from the primary tumour and BM of 4T1 tumour-bearing mice at 1 week post implantation were flow sorted by using Ly6C and CD11b surface antibodies. We performed the mouse transcriptome analyses either directly on these MDSC subsets or after co-culturing them with murine tumour cells in vitro. Results revealed that mMDSC and gMDSC subsets from BM or tumour displayed distinct gene expression profiles, with over 1,000 differentially expressed genes (Supplementary Data 3). Moreover, mMDSCs show elevated expression of many EMT-related genes such as IL1a, IL6, TGFB1 and NOS2. In contrast, gMDSCs displayed expression of a different set of genes such as S100A8, S100A9, MMP8 and TGFb3 (Fig. 4a, Supplementary Data 3). To determine the effect of MDSC subsets on tumour cells, we then analysed the gene expression profiles of tumour cells that were co-cultured with mMDSC or gMDSC subsets derived from tumour or bone marrow of 4T1 tumour-bearing mice (Supplementary Data 4 and 5). Several hundred genes were differently expressed in EMT6 tumour cells when co-cultured with mMDSCs or gMDSCs (Fig. 4b). Tumour cells that are co-cultured with mMDSC showed more than twofold upregulation of EMT-related genes (Fig. 4b,c; Supplementary Data 4 and 5). Upregulation of these genes were confirmed by quantitative PCR (qPCR) using the indicated samples (Fig. 4d,e). Our findings from mouse transcriptome analyses were independently validated by qPCR in AT-3 tumour-bearing C57BL/6J mouse model, where the same genes were upregulated in tumour cells in response to the co-culture with mMDSCs derived from AT-3 tumour-bearing animals (Fig. 4f,g). To determine the effect of MDSC subsets on the major signalling pathways, western blotting assay was performed on tumour cell lysates after overnight co-culture with mMDSCs or gMDSCs. Data support the gene expression analyses showing that MDSC subsets have differential effects on tumour cells. As shown in both 4T1/BALB/c and AT-3/C57BL/6J tumour models, mMDSCs induce a strong upregulation of pStat1, pStat3 and pNF-κB as well as enhanced expression of vimentin and twist in tumour cells, while suppressing the pERK1/2 activity (Fig. 4h,i). In contrast, gMDSCs show enhanced pERK1/2 activity while showing no effect on pStat1 and pStat3 activation (Fig. 4h,i). Enhanced pStat1 phosphorylation was also evident at the tumour invasive front where they were co-localized with Ly6C-positive mMDSCs (Supplementary Fig. 4).