Snake scales, partial exposure, and the Snake Detection Theory: A human event-related potentials study
ABSTRACT
---
Studies of event-related potentials in humans have established larger early posterior negativity (EPN) in response to pictures depicting snakes than to pictures depicting other creatures. Ethological research has recently shown that macaques and wild vervet monkeys respond strongly to partially exposed snake models and scale patterns on the snake skin. Here, we examined whether snake skin patterns and partially exposed snakes elicit a larger EPN in humans. In Task 1, we employed pictures with close-ups of snake skins, lizard skins, and bird plumage. In task 2, we employed pictures of partially exposed snakes, lizards, and birds. Participants watched a random rapid serial visual presentation of these pictures. The EPN was scored as the mean activity (225–300 ms after picture onset) at occipital and parieto-occipital electrodes. Consistent with previous studies, and with the Snake Detection Theory, the EPN was significantly larger for snake skin pictures than for lizard skin and bird plumage pictures, and for lizard skin pictures than for bird plumage pictures. Likewise, the EPN was larger for partially exposed snakes than for partially exposed lizards and birds. The results suggest that the EPN snake effect is partly driven by snake skin scale patterns which are otherwise rare in nature.
No MeSH data available.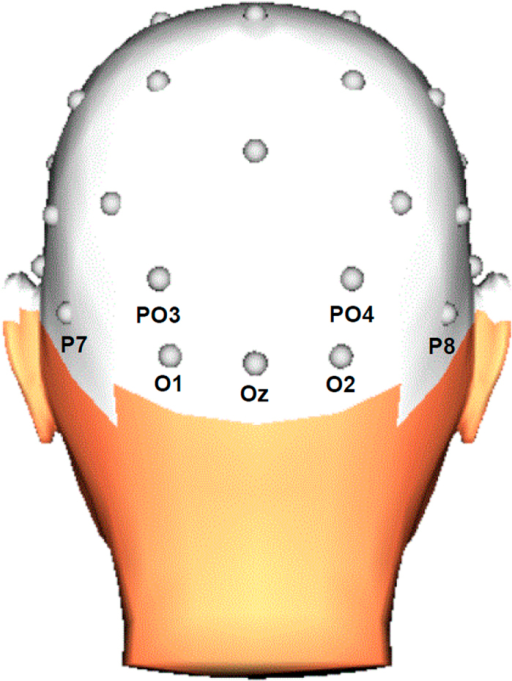 © Copyright Policy - open-access
License
getmorefigures.php?uid=PMC5384215&req=5
Mentions: For the valence and arousal ratings of the stimuli of each task, and for the fear measures, separate repeated-measures analyses of variance (ANOVAs) were employed with stimulus category (snake, lizard, bird) as one factor. For the EPN components, separate repeated-measures ANOVAs were conducted for each task, with stimulus category (snake, lizard, bird) and electrode (O1, Oz, O2, PO3, PO4, P7, P8) as factors (see Fig. 2 for the electrode positions). At the occipital and lateral occipito-parietal electrodes included in the analysis, the EPN is typically modulated by stimuli of evolutionary significance11. When appropriate, Greenhouse-Geisser correction was applied. To explore the relationship between reported fear for the three animal categories and the EPN amplitudes, we calculated the rank correlations (Spearman's rho) between questionnaire scores and EPN amplitudes for snake skins, lizard skins, and bird feathers, and for partially exposed snakes, lizards, and birds, respectively. To reduce the total number of correlations, we employed one occipital cluster (comprising the seven included electrodes) for the EPN amplitude measure.