Snake scales, partial exposure, and the Snake Detection Theory: A human event-related potentials study
ABSTRACT
---
Studies of event-related potentials in humans have established larger early posterior negativity (EPN) in response to pictures depicting snakes than to pictures depicting other creatures. Ethological research has recently shown that macaques and wild vervet monkeys respond strongly to partially exposed snake models and scale patterns on the snake skin. Here, we examined whether snake skin patterns and partially exposed snakes elicit a larger EPN in humans. In Task 1, we employed pictures with close-ups of snake skins, lizard skins, and bird plumage. In task 2, we employed pictures of partially exposed snakes, lizards, and birds. Participants watched a random rapid serial visual presentation of these pictures. The EPN was scored as the mean activity (225–300 ms after picture onset) at occipital and parieto-occipital electrodes. Consistent with previous studies, and with the Snake Detection Theory, the EPN was significantly larger for snake skin pictures than for lizard skin and bird plumage pictures, and for lizard skin pictures than for bird plumage pictures. Likewise, the EPN was larger for partially exposed snakes than for partially exposed lizards and birds. The results suggest that the EPN snake effect is partly driven by snake skin scale patterns which are otherwise rare in nature.
No MeSH data available.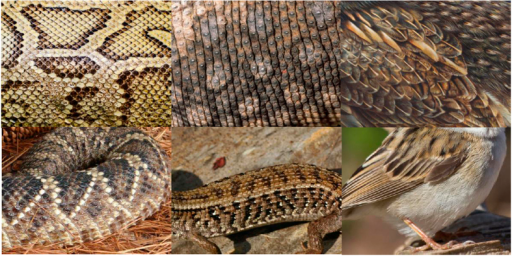 © Copyright Policy - open-access
License
getmorefigures.php?uid=PMC5384215&req=5
Mentions: Participants were seated in a dimly lit room and were told to attentively watch the continuous RSVP of the various stimulus categories. In Task 1, the RSVP consisted of 300 pictures of snake skins, 300 pictures of lizard skins, and 300 pictures of bird feathers. In Task 2, the RSVP consisted of 300 pictures of partly exposed snakes, 300 pictures of partly exposed lizards, and 300 pictures of partly exposed birds. For each stimulus category, 10 different pictures were shown 30 times. Pictures were obtained from various Internet sites. In Task 1, each picture showed a close-up of a snake skin, a lizard skin, or the plumage of a bird. In Task 2, each picture showed a partly exposed snake, lizard, or bird body against a natural background. No animal heads were shown on these pictures. Examples of the stimulus categories are given in Fig. 1. The pictures were shown at a distance of 120 cm on a 20-inch PC monitor with a resolution of 1024 × 768 pixels. Pictures had a size of 600 × 450 pixels, and were displayed against a medium grey background. The presentation rate was 3 pictures per second. In each task, the pictures were presented randomly within each cycle of 30 unique pictures (30 cycles) without gaps until all pictures were presented. The order of Tasks 1 and 2 was fixed because we did not want to prime the viewing of the skins and plumages in advance by showing snake, lizard, and bird pictures. There was a short rest between the block of 900 picture presentations in Task 1 and the block of 900 picture presentations in Task 2.