Analysis of free text in electronic health records for identification of cancer patient trajectories
ABSTRACT
---
With an aging patient population and increasing complexity in patient disease trajectories, physicians are often met with complex patient histories from which clinical decisions must be made. Due to the increasing rate of adverse events and hospitals facing financial penalties for readmission, there has never been a greater need to enforce evidence-led medical decision-making using available health care data. In the present work, we studied a cohort of 7,741 patients, of whom 4,080 were diagnosed with cancer, surgically treated at a University Hospital in the years 2004–2012. We have developed a methodology that allows disease trajectories of the cancer patients to be estimated from free text in electronic health records (EHRs). By using these disease trajectories, we predict 80% of patient events ahead in time. By control of confounders from 8326 quantified events, we identified 557 events that constitute high subsequent risks (risk > 20%), including six events for cancer and seven events for metastasis. We believe that the presented methodology and findings could be used to improve clinical decision support and personalize trajectories, thereby decreasing adverse events and optimizing cancer treatment.
No MeSH data available.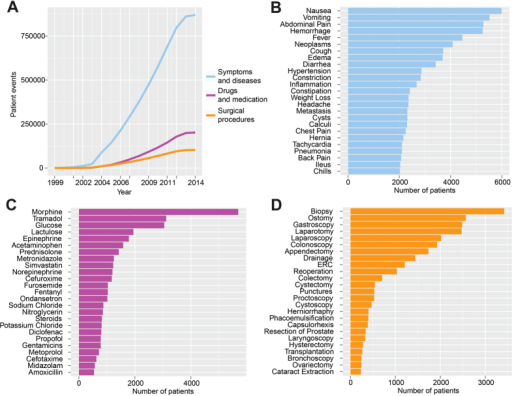 © Copyright Policy - open-access
License
getmorefigures.php?uid=PMC5384191&req=5
Mentions: The amount of information learned from the EHRs naturally increased with time (Fig. 1A). The number of learned observations and events that were related to diseases and symptoms was far greater than those for drugs (4.3 times) and surgical procedures (8.5 times) with 869,731 disease and symptom observations, 201,990 drug and medication events and 102,561 surgical procedure events. Therefore, the clear majority of the free text in the EHRs represents a rich archive of symptom and disease observations supported by drug, medication and surgical procedure descriptions. Figure 1B illustrates the 25 most common diseases and symptoms, with nausea (5,996 patients), vomiting (5,516 patients), abdominal pain (5,277 patients), hemorrhage (5,253 patients) and fever (4,458 patients), as the most common symptoms, and cancer (4,080 patients) as the most common disease observation. Similarly, the most common drugs and medications used (Fig. 1C) included morphine (5,689 patients), tramadol (3,116 patients), intravenous glucose (3,048 patients) lactulose (1,946 patients) and epinephrine (1,783 patients). Regarding surgical procedures (Fig. 1D), it was unsurprising that the simple procedure of biopsy (3,420 patients) ranked as the most common, followed by stoma formation (2,568 patients), upper endoscopic procedures (2,486 patients) and laparotomy (2,473 patients).