PLGA-based dual targeted nanoparticles enhance miRNA transfection efficiency in hepatic carcinoma
ABSTRACT
---
Hepatic carcinoma (HCC) is a lethal disease associated with high morbidity and poor prognosis. Recently years, gene therapies have offered novel modalities to improve the prognosis of HCC patients. MicroRNA-99a (miR-99a) is frequently down-regulated in HCC, where it acts as a tumor suppressor. Therefore, we constructed monomethoxy (polyethylene glycol)-poly(D,L-lactide-co-glycolide)-poly(L-lysine)-lactobionic acid- anti-vascular endothelial growth factor antibody (mPEG-PLGA-PLL-LA/VEGFab or PEAL-LA/VEGFab) nanoparticles (NPs) with highly specific targeting properties as carriers to restore the expression of miR-99a both in vitro and in vivo, to inhibit HCC progression. In vitro, PEAL-LA/VEGFab NPs showed more efficient delivery of miR-99a to HepG2 cells than the conventional transfection reagent LipofectamineTM2000 (Lip2000). The higher delivery efficiency associated with PEAL-LA/VEGFab NPs consequently resulted in down-regulation of target genes and suppression of the proliferation, migration and invasion of HepG2 cells. In vivo, miR-99a-PEAL-LA/VEGFab NPs inhibited tumor xenograft growth in HCC-bearing mice without causing obvious systemic toxicity. Our results demonstrate that PEAL-LA/VEGFab NPs selectively and effectively deliver miR-99a to HCC cells based on the double-targeting character of these nanoparticles, thereby offering potential for translation into effective clinical therapies for HCC.
No MeSH data available.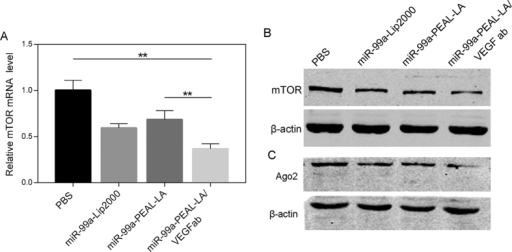 © Copyright Policy - open-access
License
getmorefigures.php?uid=PMC5384185&req=5
Mentions: The ideal anticancer therapy would need to effectively facilitate miR-99a interaction with its target genes through the effective delivery of miR-99a to target cells, such as HepG2 hepatocellular carcinoma cells. This delivery should restore miR-99a expression, reduce expression of its target genes and suppress HCC growth. The mTOR signaling pathway is closely related with tumorigenesis and its down-regulation could suppress tumor progression1314. Previous research has revealed that mTOR was an acknowledged target gene of miR-99a and the restoration of miR-99a in HCC could dramatically reduce its expression on both mRNA and protein level13. In addition, Argonaute-2 (Ago2) is a member of Argonaute gene family that function as a catalytic component of RNA-induced silencing complex (RISC) to cleave the target messenger RNAs (mRNAs) that are complementary to the guiding small interference RNAs (siRNAs) or microRNAs (miRNAs). Previous study showed that Ago2 was a novel target gene of miR-99a. The overexpression of miR-99a could significantly inhibit the expression of Ago2 protein, whereas the mRNA level of Ago2 was not significantly reduced, suggesting that miR-99a might inhibit Ago2 through translation repression rather than mRNA degradation15. Therefore, if the miR-99a was restored effectively in HCC, the expression of mTOR mRNA, mTOR protein as well as Ago2 protein would be inhibited significantly. To test the efficacy of the NPs-mediated delivery of miR-99a, we analyzed HepG2 cells treated with our NPs-miR-99a nanocomplexes for the expression of mTOR mRNA by qRT-PCR, mTOR protein and Ago2 protein by western blot. As shown in Fig. 4A, decreased expression of mTOR mRNA was observed in cells treated with miR-99a-Lip2000, miR-99a-PEAL-LA NPs and miR-99a-PEAL-LA/VEGFab NPs compared with the PBS group. Notably, miR-99a-PEAL-LA/VEGFab NPs showed the strongest inhibitory effect on mTOR mRNA expression, as mTOR mRNA expression was decreased by more than 60%. Analysis of mTOR protein expression by western blot revealed knock-down efficiency consistent with the mRNA expression data. Down-regulation of mTOR protein expression was most pronounced when miR-99a-PEAL-LA/VEGFab NPs were used (Fig. 4B), which correlated with the inhibition of tumor progression. In addition, as to the Ago2 protein (Fig. 4C), compared with the PBS group, decreased expression of Ago2 protein was observed in cells treated with miR-99a-Lip2000, miR-99a-PEAL-LA NPs and miR-99a-PEAL-LA/VEGFab NPs and among them, miR-99a-PEAL-LA/VEGFab NPs showed the most pronounced inhibitory effect resulting in more than 60% decrease of Ago2 protein expression. The western blot results revealed that the PEAL-LA/VEGFab NPs could mediate the most effectively delivery of miR-99a and subsequently regulate the expression of Ago2 protein.