Krebs Cycle Intermediates Protective against Oxidative Stress by Modulating the Level of Reactive Oxygen Species in Neuronal HT22 Cells
ABSTRACT
---
Krebs cycle intermediates (KCIs) are reported to function as energy substrates in mitochondria and to exert antioxidants effects on the brain. The present study was designed to identify which KCIs are effective neuroprotective compounds against oxidative stress in neuronal cells. Here we found that pyruvate, oxaloacetate, and α-ketoglutarate, but not lactate, citrate, iso-citrate, succinate, fumarate, or malate, protected HT22 cells against hydrogen peroxide-mediated toxicity. These three intermediates reduced the production of hydrogen peroxide-activated reactive oxygen species, measured in terms of 2′,7′-dichlorofluorescein diacetate fluorescence. In contrast, none of the KCIs—used at 1 mM—protected against cell death induced by high concentrations of glutamate—another type of oxidative stress-induced neuronal cell death. Because these protective KCIs did not have any toxic effects (at least up to 10 mM), they have potential use for therapeutic intervention against chronic neurodegenerative diseases.
No MeSH data available.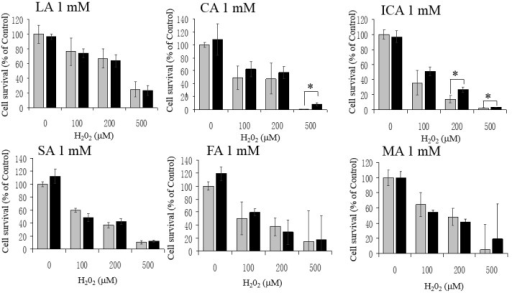 © Copyright Policy - open-access
License
getmorefigures.php?uid=PMC5384184&req=5
Mentions: Next, we assessed whether LA, CA, ICA, SA, FA, and MA could protect HT22 cells against H2O2, and found that these intermediates were not—or were very little if they were—protective against H2O2 (100, 200, and 500 μM)-mediated cytotoxicity (Figure 4). Then, we examined whether these KCIs could protect the cells against Glu toxicity. Additionally, except for SA against 5 mM Glu, these KCIs (at 1 mM) showed no protection against high concentrations (5, 10, and 20 mM) of Glu (Figure 5). These results indicate that LA, CA, ICA, SA, FA, and MA could not protect HT22 cells against oxidative stress. LA, SA, FA, and MA were not toxic to the cells up to 10 mM. By some unknown mechanism, CA and ICA gave toxic effects when tested around 5–10 mM (Figure 2). A high concentration of FA had an exceptional action on the cells, because 10 mM FA gave significant protection against high concentrations of Glu (Figure 5).