Sensory genes identification with head transcriptome of the migratory armyworm, Mythimna separata
ABSTRACT
---
Sensory system plays important roles in a wide array of insect's behavior and physiological events, including the host landing and locating, feeding, flying, sex responding, mating and oviposition which happen independently and in sequence. The armyworm Mythimna separata (Lepidoptera: Noctuidae) of migratory insect is destructive for alimentarn crop and economic crop throughout the world. Here we present the high throughput sequencing of the head transcriptome and identify members of the major sensory genes which are crucial for armyworm's success worldwide, including 8 opsins, 22 chemosensory proteins, 50 odorant binding proteins, 60 odorant receptors, 8 gustatory receptors, 24 ionotropic receptors, and 2 sensory neuron membrane proteins. It is worth noting that a duplication of the LW opsin gene exists in this insect. Several genes were clustered with functionally validated genes, such as Co-receptors of OR and IR, PBPs, PRs, CO2 GRs, bitter GRs and sweet GRs, were also identified. The transcriptome gene library provided the basis for further studies that elucidate the fundamental molecular mechanism of biology and control in M. separata. Our research exhibits the first comprehensive catalogue of the sensory genes fundamental for success and distribution in M. separata, which are potential novel targets for pest control strategies.
No MeSH data available.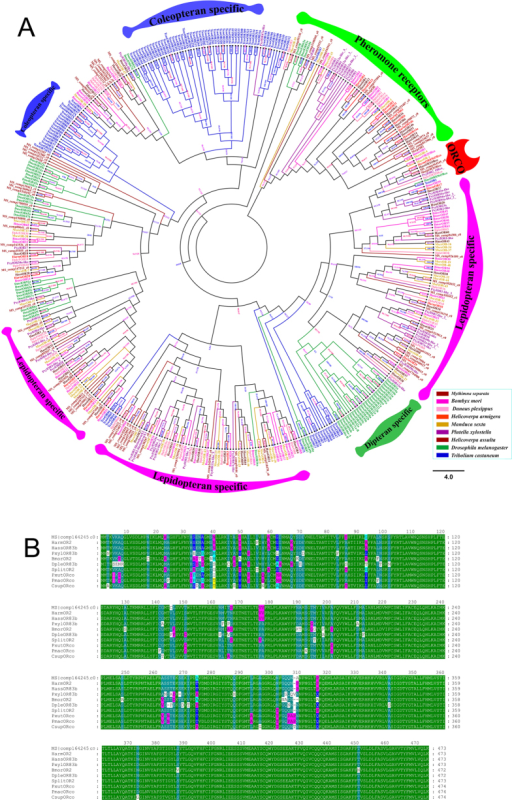 © Copyright Policy - open-access
License
getmorefigures.php?uid=PMC5384095&req=5
Mentions: Sixty candidate OR proteins were identified from the data sets. Supplementary Data S5 summarized transcript name, length, Signal Peptide, TMD Number and FPKM in three biological replicates of the OR genes. The average sequence length was 327 bp. Four ORs likely represent full-length sequences. The highest FPKM value is 267.0 (MS/comp165911_c0) and the average FPKM value of the ORs was just 7.9. Most of partial length transcripts likely represent separate individual protein, as overlapping regions among them showed low identity of amino acid sequence. The amino acid identity of full length putative M. separata ORs ranged from 11.2% to 21.6% (average 17.5%), which was consistent with the diversity of the OR gene family (Supplementary Data S4). According to the analysis of Predictive software, there might be zero to seven transmembrane domains represent in full-length candidate M. separata OR transcripts. Consistent with the length of the partial transcripts, the remaining M. separata ORs may posse between zero and three transmembrane domains. It was worth noting that the highly-conserved co-receptor Orco which showed 87% to 97% amino acid sequence identity with Orco from B. mori, P. xylostella, D. plexippus and other Lepidopterans (Fig. 4 and Supplementary Data S5). A phylogenetic tree of ORs based on the maximum likelihood method was constructed using protein sequences of ORs from M. separata, six other lepidopteran species, T. castaneum and D. melanogaster (Fig. 4). ORs are divided into several subgroups of various size and content in the phylogenetic tree, the odorant co-receptor (Orco) and pheromone receptor (PR) families were highly conserved. Interestingly, MS/comp50905_c0 sharing high homology and closely clustered with MsexOR42, which detects cis-3-hexenyl acetate thereby affect oviposition site location10.