Sensory genes identification with head transcriptome of the migratory armyworm, Mythimna separata
ABSTRACT
---
Sensory system plays important roles in a wide array of insect's behavior and physiological events, including the host landing and locating, feeding, flying, sex responding, mating and oviposition which happen independently and in sequence. The armyworm Mythimna separata (Lepidoptera: Noctuidae) of migratory insect is destructive for alimentarn crop and economic crop throughout the world. Here we present the high throughput sequencing of the head transcriptome and identify members of the major sensory genes which are crucial for armyworm's success worldwide, including 8 opsins, 22 chemosensory proteins, 50 odorant binding proteins, 60 odorant receptors, 8 gustatory receptors, 24 ionotropic receptors, and 2 sensory neuron membrane proteins. It is worth noting that a duplication of the LW opsin gene exists in this insect. Several genes were clustered with functionally validated genes, such as Co-receptors of OR and IR, PBPs, PRs, CO2 GRs, bitter GRs and sweet GRs, were also identified. The transcriptome gene library provided the basis for further studies that elucidate the fundamental molecular mechanism of biology and control in M. separata. Our research exhibits the first comprehensive catalogue of the sensory genes fundamental for success and distribution in M. separata, which are potential novel targets for pest control strategies.
No MeSH data available.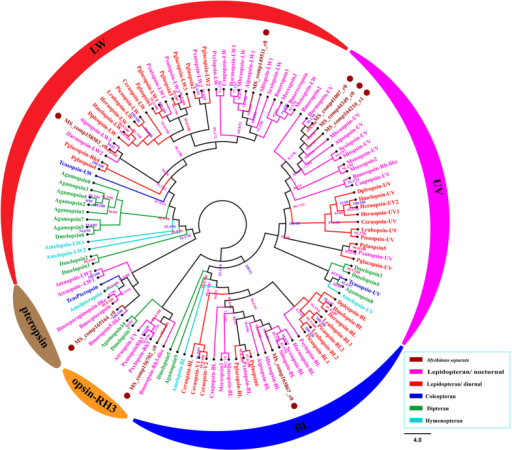 © Copyright Policy - open-access
License
getmorefigures.php?uid=PMC5384095&req=5
Mentions: Eight genes were identified as vision-related opsin and four opsins likely represent full-length sequences (Supplementary Data S3). A phylogenetic tree based on the maximum likelihood method was constructed used opsin protein sequences from Lepidopteran, Coleopteran, Dipteran and Hymenopteran insects of 25 species (Fig. 2). Two long wavelength light-sensitive opsins genes were found in several Lepidopterans, which resulted from the early duplication of gene LW189. Interestingly, we found two LW opsins genes in M. separata, LW1 opsin (MS/comp149511_c0) was expressed in higher level (FPKM: 5344.8) than LW2 opsin (MS/comp158503_c0) (FPKM: 30.3). FPKM of blue light-sensitive (BL) opsin (MS/comp163867_c0), ultraviolet light-sensitive (UV) opsin (MS/comp164210_c1), and peropsin (MS/comp165164_c0) were 135.9, 537.4, and 42.1, respectively. Two UV opsin (MS/comp41007_c0, MS/comp44349_c0) and one opsin-RH3-like (MS/comp156702_c0) were also opsin genes with weak expression levels (FPKM < 5) (Supplementary Data S5). Sequence alignment revealed that M. separata opsins shared strong homology with opsins identified from other Lepidopteran insects, such as Helicoverpa armigera, Plutella xylostella, B. mori and D. plexippus. The observed homology was 34.7% ~ 86.0% between opsins in M. separata (Supplementary Data S4).