Identification of dominating factors affecting vadose zone vulnerability by a simulation method
ABSTRACT
---
The characteristics of vadose zone vulnerability dominating factors (VDFs) are closely related to the migration and transformation mechanisms of contaminants in the vadose zone, which directly affect the state of the contaminants percolating to the groundwater. This study analyzes the hydrogeological profile of the pore water regions in the vadose zone, and conceptualizes the vadose zone as single lithologic, double lithologic, or multi lithologic. To accurately determine how the location of the pollution source influences the groundwater, we classify the permeabilities (thicknesses) of different media into clay-layer and non-clay-layer permeabilities (thicknesses), and introduce the maximum pollution thickness. Meanwhile, the physicochemical reactions of the contaminants in the vadose zone are represented by the soil adsorption and soil degradability. The VDFs are determined from the factors and parameters in groundwater vulnerability assessment. The VDFs are identified and sequenced in simulations and a sensitivity analysis. When applied to three polluted sites in China, the method improved the weighting of factors in groundwater vulnerability assessment, and increased the reliability of predicting groundwater vulnerability to contaminants.
No MeSH data available.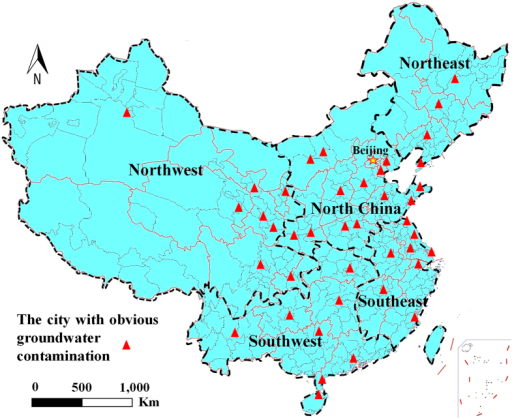 © Copyright Policy - open-access
License
getmorefigures.php?uid=PMC5384093&req=5
Mentions: The characteristics of groundwater pollution differ among the various regions of China depend on 5118 groundwater monitoring wells' location and groundwater quality. In the northeastern parts, the main contaminants are nitrogen, volatile phenols, and petroleum pollutants, which are often released by heavy industry and oil exploration282930. In Northern China, the main contaminants exceeding the standards are N, Fe, Mn, and petroleum pollutants3132333435, whereas pollutants in northwestern China are dominated by N, Cr, and Pb3637. The groundwater is generally high-quality in the southwestern parts, but is sometimes excessively contaminated by Fe, Mn, and volatile phenols3839. In southeast China, unconfined groundwater contaminants are commonly found around the Yangtze River Delta40 and the Pearl River Delta41. The main contaminants exceeding the standards are N, Hg, Cr, and Mn4243. General contaminants include nitrates, heavy metals, and organic matters. Sites with obvious groundwater pollution in China are indicated in Fig. 2. According to the National Base of Groundwater Environment Survey Assessment (2012–2015) compiled by the Ministry of Environmental Protection of China and the National Evaluation of Groundwater Pollution Survey (2005–2015) compiled by the Chinese Geological Bureau, groundwater contaminants in China have concentrated in unconfined aquifers over the past 10 years. Given these characteristics, we target pore-phreatic aquifers for protection in the present study.