Genome-wide identification and functional prediction of cold and/or drought-responsive lncRNAs in cassava
ABSTRACT
---
Cold and drought stresses seriously affect cassava (Manihot esculenta) plant growth and yield. Recently, long noncoding RNAs (lncRNAs) have emerged as key regulators of diverse cellular processes in mammals and plants. To date, no systematic screening of lncRNAs under abiotic stress and their regulatory roles in cassava has been reported. In this study, we present the first reference catalog of 682 high-confidence lncRNAs based on analysis of strand-specific RNA-seq data from cassava shoot apices and young leaves under cold, drought stress and control conditions. Among them, 16 lncRNAs were identified as putative target mimics of cassava known miRNAs. Additionally, by comparing with small RNA-seq data, we found 42 lncNATs and sense gene pairs can generate nat-siRNAs. We identified 318 lncRNAs responsive to cold and/or drought stress, which were typically co-expressed concordantly or discordantly with their neighboring genes. Trans-regulatory network analysis suggested that many lncRNAs were associated with hormone signal transduction, secondary metabolites biosynthesis, and sucrose metabolism pathway. The study provides an opportunity for future computational and experimental studies to uncover the functions of lncRNAs in cassava.
No MeSH data available.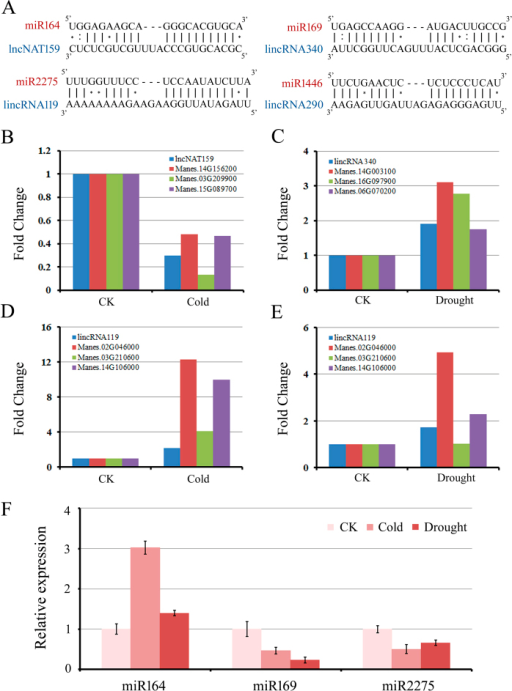 © Copyright Policy - open-access
License
getmorefigures.php?uid=PMC5384091&req=5
Mentions: It has been shown that lncRNAs can serve as miRNA target mimicry to interfere with the miRNA-mediated regulation of their targets in plants. Similar to the interactions of miRNAs with their targets, miRNA target mimicry also rely on the sequence-dependent interaction of miRNAs with lncRNAs, except for the bulges in the middle of miRNA-lincRNA duplexes22. We predicted lncRNAs that might act as miRNA target mimicry using the algorithm developed by Wu et al.24. In total, we found that 16 of the identified lncRNAs that may act as miRNA mimics bound by conserved miRNAs, such as miR164, miR169, miR2275 and miR1446 (Fig. 5A, Supplemental Data S4). Considering the possible role of these lncRNAs in regulating the transcript levels of miRNA targets, we further investigated coordination of lncRNAs and miRNA-targeted genes expression after cold or drought treatment using RNA-seq data. Interestingly, we found lncRNAs was positively correlated with miRNA-targeted genes expression. For example, we found a cold-repressive lincRNA159, binding miRNA164 with three mismatches, coordinated with decrease of the expression of miR164-targeted NAC (NAM, ATAF1/2, CUC2) genes under cold treatment (Fig. 5B). On the other hand, expression of lincRNA340 was induced by drought stress, accompanied by an increase of miR169-targeted NUCLEAR FACTOR Y (NF-Y) genes after drought treatment (Fig. 5C). It is known that miR164 and miR169 participate in regulating cold and/or drought stress responses in plants4748. Thus, these two miRNA-lncRNAs functional pairs might be important regulators of abiotic stresses responses. In addition, in response to both cold and drought stress, induction of lincRNA119 was positively correlated with dramatically increased the mRNA abundance of corresponding miR2275 targets (Fig. 5D,E). To further understand the relationship of miRNA target mimics and correlated miRNAs, we analyzed the expression level of miR164, miR169 and miR2275 under stress conditions by qRT-PCR, respectively. We found miR164 was significantly up-regulated by cold and drought stress, especially after cold treatment, while miR169 and miR2275 exhibited decreased expression pattern during all stress conditions (Fig. 5F). This result is consistent with the expression pattern of miRNA targets and miRNA target mimics. Taken together, these results strengthen our assumption that lncRNAs may be involved in inhibiting the functions of miRNAs.