Reproducing the hierarchy of disorder for Morpho -inspired, broad-angle color reflection
ABSTRACT
---
The scales of Morpho butterflies are covered with intricate, hierarchical ridge structures that produce a bright, blue reflection that remains stable across wide viewing angles. This effect has been researched extensively, and much understanding has been achieved using modeling that has focused on the positional disorder among the identical, multilayered ridges as the critical factor for producing angular independent color. Realizing such positional disorder of identical nanostructures is difficult, which in turn has limited experimental verification of different physical mechanisms that have been proposed. In this paper, we suggest an alternative model of inter-structural disorder that can achieve the same broad-angle color reflection, and is applicable to wafer-scale fabrication using conventional thin film technologies. Fabrication of a thin film that produces pure, stable blue across a viewing angle of more than 120 ° is demonstrated, together with a robust, conformal color coating.
No MeSH data available.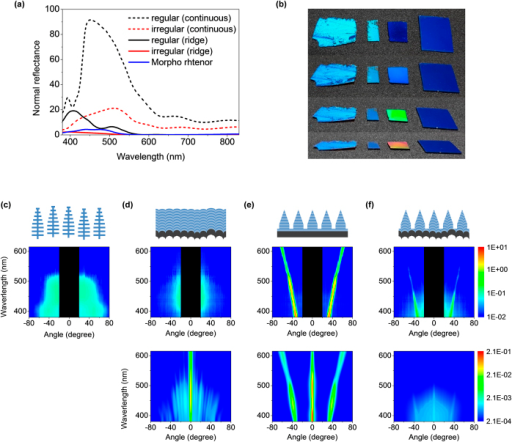 © Copyright Policy - open-access
License
getmorefigures.php?uid=PMC5384085&req=5
Mentions: The normal reflectance spectra of the films are shown in Fig. 4a. We find that formation of the tapered ridge highly suppresses the normal reflection, especially in the longer wavelength region. When the viewing angle is changed, however, the colors diverge dramatically, as is shown in Fig. 4b. The color of the ridged film with regular layers changes all over the visible spectrum as expected. In contrast, the color of the ridged film with inter-structural disorder remains blue at all viewing angles. For a more quantitative analysis, the angle-dependent reflection spectra for Morpho Rhetenor and the fabricated structures are shown in Fig. 4c–f respectively. Also shown for comparison are the theoretical reflection spectra of the fabricated structures calculated using the measured irregular shapes of layers and the actual shape of the ridges obtained from SEM images (See Supplementary Information, Fig. S2 for more detailed information on simulation structures). In both cases, we observe a good agreement between calculated and experimental results. Without inter-structural disorder, the spectrum is dominated by sharp peaks confirming that the array indeed is a grating, with a maximum reflection peak near 400 nm and a strong suppression of all reflection in the red (see Supplementary Information, Fig. S3 for the calculated normal reflectance spectra). With inter-structural disorder, we observe a nearly 100-fold reduction in the intensity of grating peaks, and the generation of broad, uniform reflection in the blue, confirming that the inter-structural disorder has reduced the coherence of reflection from the multilayered ridges to suppress the grating effect, despite the identical external shape of the ridges. Such broad-angle reflection is maintained for an oblique incidence angle as well (For the measured and calculated reflection spectra for a 45 ° incident angle and angle-resolved spectra of selected wavelengths, see Supplementary Information, Fig. S4).