Plk1 Regulates the Repressor Function of FoxM1b by inhibiting its Interaction with the Retinoblastoma Protein
ABSTRACT
---
FoxM1b is a cell cycle-regulated transcription factor, whose over-expression is a marker for poor outcome in cancers. Its transcriptional activation function requires phosphorylation by Cdk1 or Cdk2 that primes FoxM1b for phosphorylation by Plk1, which triggers association with the co-activator CBP. FoxM1b also possesses transcriptional repression function. It represses the mammary differentiation gene GATA3 involving DNMT3b and Rb. We investigated what determines the two distinct functions of FoxM1b: activation and repression. We show that Rb binds to the C-terminal activation domain of FoxM1b. Analyses with phospho-defective and phospho-mimetic mutants of FoxM1b identified a critical role of the Plk1 phosphorylation sites in regulating the binding of FoxM1b to Rb and DNMT3b. That is opposite of what was seen for the interaction of FoxM1b with CBP. We show that, in addition to GATA3, FoxM1b also represses the mammary luminal differentiation marker FoxA1 by promoter-methylation, and that is regulated by the Plk1 phosphorylation sites in FoxM1b. Our results show that the Plk1 phosphorylation sites in FoxM1b serve as a regulator for its repressor function, and they provide insights into how FoxM1b inhibits differentiation genes and activates proliferation genes during cancer progression.
No MeSH data available.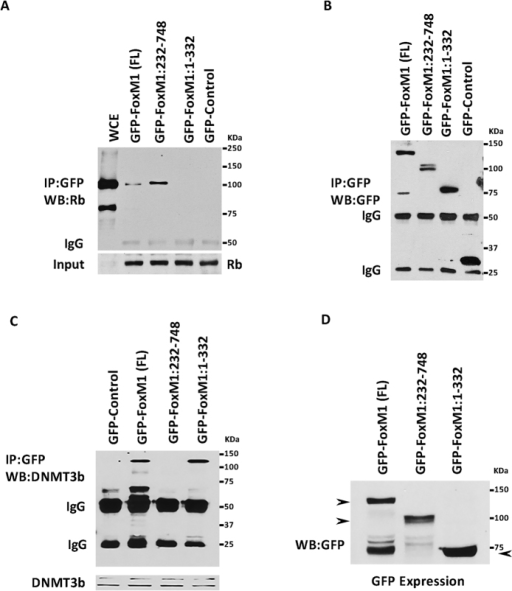 © Copyright Policy - open-access
License
getmorefigures.php?uid=PMC5384083&req=5
Mentions: Several studies including ours demonstrated that FoxM1 binds to Rb4849. Recently, we showed that FoxM1 interacts with the de novo DNA-methyltransferase DNMT3b1. In that study, we showed that Rb also binds to DNMT3b, and that Rb is critical for the FoxM1-DNMT3b mediated methylation of the CpGs in the GATA3 promoter. Therefore, we investigated whether FoxM1 interacts with DNMT3b indirectly through its interaction with Rb. We analyzed mutants of FoxM1b for interactions with Rb and DNMT3b to see whether the interaction with DNMT3b depends upon the Rb binding site in FoxM1b. GFP-fusion constructs of FoxM1b mutants were expressed in MCF7 cells to investigate the interactions using co-immunoprecipitation experiments. Interestingly, we observed that an N-terminal deletion mutant lacking residues 1–232 could associate with Rb as efficiently as the wild type FoxM1 (Fig. 1A,B), however, that mutant failed to bind DNMT3b (Fig. 1C,D). On the other hand, a mutant of FoxM1 containing the N-terminal residues 1–332 was able to associate with DNMT3b but not with Rb (Fig. 1A,C). This N-terminal region in FoxM1 is distinct from the Rb-binding domain identified previously. A previous study49, using GST pull-down assays, identified a central domain in the FoxM1c isoform, distinct from the N-terminal region that binds DNMT3b, which binds Rb. To further investigate that region in FoxM1b for Rb-binding, we analyzed additional GFP-FoxM1b mutants. Surprisingly our co-immunoprecipitation experiments identified a different region in the C-terminus of FoxM1b as the Rb-binding site. A mutant of FoxM1b (1–688) lacking the C-terminal 80 residues failed to bind Rb (Fig. 2A,B). On the other hand, a GFP-fusion protein containing residues between 680 and 720, which is critical for transactivation function of FoxM1b, could efficiently bind Rb (Fig. 2C,D). Based on our binding data and secondary structure prediction analyses using the Robetta program (WWW.robetta.org), we think that the Rb-binding site lies between residues 700 and 722 of FoxM1. The sequence L (707)VLDTMNDSLSKILLD(722) of FoxM1 has typical amino acid sequence pattern of a helix. Deletion of residues L(707)VL disrupts the helical structure of this sequence and, therefore, predicted to disrupt the interaction with Rb. We suspect, that is why there is a loss of binding with our construct GFP-FoxM1:710–748. Thus, while DNMT3b binding involves the N-terminal region in FoxM1b, Rb binding involves the C-terminal activation domain in FoxM1b. Expression and immunoprecipitation data for the GFP-FoxM1b proteins are included also in supplemental Fig. S1.