High Temperature Deformation Mechanism in Hierarchical and Single Precipitate Strengthened Ferritic Alloys by In Situ Neutron Diffraction Studies
ABSTRACT
---
The ferritic Fe-Cr-Ni-Al-Ti alloys strengthened by hierarchical-Ni2TiAl/NiAl or single-Ni2TiAl precipitates have been developed and received great attentions due to their superior creep resistance, as compared to conventional ferritic steels. Although the significant improvement of the creep resistance is achieved in the hierarchical-precipitate-strengthened ferritic alloy, the in-depth understanding of its high-temperature deformation mechanisms is essential to further optimize the microstructure and mechanical properties, and advance the development of the creep resistant materials. In the present study, in-situ neutron diffraction has been used to investigate the evolution of elastic strain of constitutive phases and their interactions, such as load-transfer/load-relaxation behavior between the precipitate and matrix, during tensile deformation and stress relaxation at 973 K, which provide the key features in understanding the governing deformation mechanisms. Crystal-plasticity finite-element simulations were employed to qualitatively compare the experimental evolution of the elastic strain during tensile deformation at 973 K. It was found that the coherent elastic strain field in the matrix, created by the lattice misfit between the matrix and precipitate phases for the hierarchical-precipitate-strengthened ferritic alloy, is effective in reducing the diffusional relaxation along the interface between the precipitate and matrix phases, which leads to the strong load-transfer capability from the matrix to precipitate.
No MeSH data available.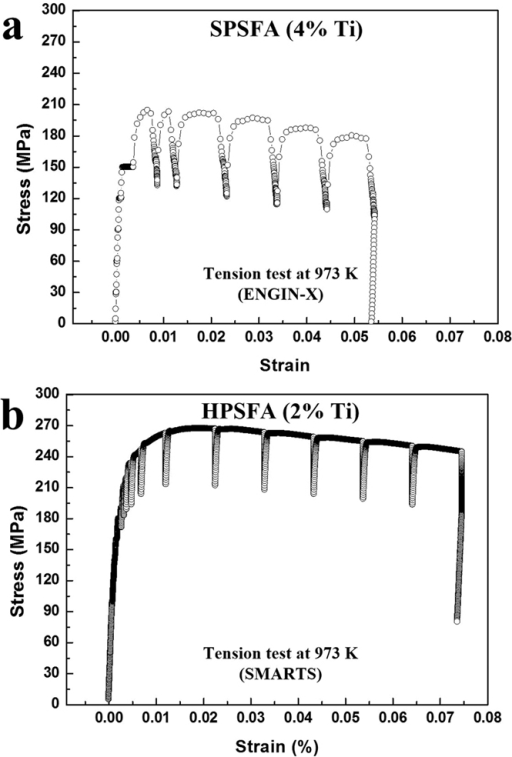 © Copyright Policy - open-access
License
getmorefigures.php?uid=PMC5384073&req=5
Mentions: Representative neutron-diffraction (ND) patterns measured at room temperature without loading (a reference state, 5 MPa) for SPSFA and HPSFA are presented in Fig. 2, with the refined profile by the General Structural Analysis System (GSAS) Rietveld analysis30. Both alloys show the fundamental reflections (110, 200, 211, and 220), and super-lattice reflections (111, 200, 222, and 420). The superlattice peaks of (111) and (222) are unique to the L21 structure, as compared to the B2 structure, which supports the formation of the L21 structure in both alloys. The enlarged patterns in the insets of Figs 2a and 3b clearly show the well-separated fundamental 110Fe/220L21 peaks for SPSFA and overlapped peaks for HPSFA, respectively. This trend supports the TEM observation indicating that the lattice misfit between the α-Fe and L21 phases of SPSFA is greater than that of HPSFA. The averaged lattice parameters of the α-Fe and L21 phases, determined by GSAS Rietveld analysis30, and corresponding lattice misfit, defined as Eq. [8] (See Methods Section: Neutron Data Analysis), for SPSFA and HPSFA at room temperature and 973 K are summarized in Table 1. The lattice misfit of SPSFA (1.32%) is greater than that of HPSFA (0.77%) at 973 K, and the larger lattice misfit causes the formation of the misfit dislocations at the interface between the Fe matrix and L21 precipitate for SPSFA (Fig. 1a). In contrast, the lower lattice misfit of HPSFA leads to the retention of the coherent interface, as reflected by the TEM observations in Fig. 1b.