Insights on Structure and Function of a Late Embryogenesis Abundant Protein from Amaranthus cruentus : An Intrinsically Disordered Protein Involved in Protection against Desiccation, Oxidant Conditions, and Osmotic Stress
ABSTRACT
---
Late embryogenesis abundant (LEA) proteins are part of a large protein family that protect other proteins from aggregation due to desiccation or osmotic stresses. Recently, the Amaranthus cruentus seed proteome was characterized by 2D-PAGE and one highly accumulated protein spot was identified as a LEA protein and was named AcLEA. In this work, AcLEA cDNA was cloned into an expression vector and the recombinant protein was purified and characterized. AcLEA encodes a 172 amino acid polypeptide with a predicted molecular mass of 18.34 kDa and estimated pI of 8.58. Phylogenetic analysis revealed that AcLEA is evolutionarily close to the LEA3 group. Structural characteristics were revealed by nuclear magnetic resonance and circular dichroism methods. We have shown that recombinant AcLEA is an intrinsically disordered protein in solution even at high salinity and osmotic pressures, but it has a strong tendency to take a secondary structure, mainly folded as α-helix, when an inductive additive is present. Recombinant AcLEA function was evaluated using Escherichia coli as in vivo model showing the important protection role against desiccation, oxidant conditions, and osmotic stress. AcLEA recombinant protein was localized in cytoplasm of Nicotiana benthamiana protoplasts and orthologs were detected in seeds of wild and domesticated amaranth species. Interestingly AcLEA was detected in leaves, stems, and roots but only in plants subjected to salt stress. This fact could indicate the important role of AcLEA protection during plant stress in all amaranth species studied.
No MeSH data available.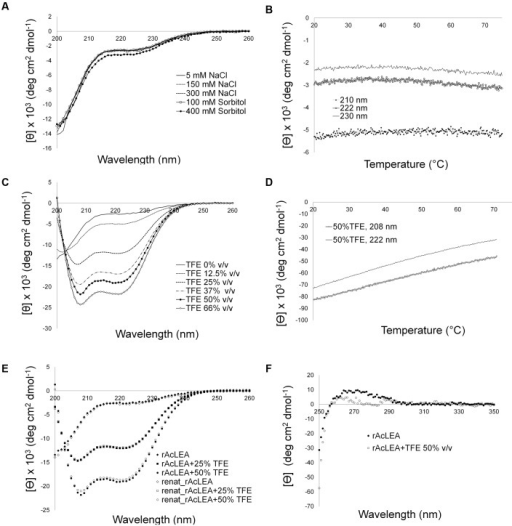 © Copyright Policy
License
getmorefigures.php?uid=PMC5384071&req=5
Mentions: The amino acid composition of AcLEA is rich in α-helix promoters such as Ala (19.0%), Met (5.2%), Glu (9.8%), Gln (9.2%), Thr (9.2%), and Lys (13.8%), nevertheless the Gly content is high (8.1%) this amino acid does not have a high propensity for secondary structure formation (Serrano et al., 1992; Creighton, 1993). As observed in other LEA proteins, secondary structure prediction indicates the formation of vast segments of helical structures reaching up to 80% α-helix content. Interestingly, NMR data (Figure 3) showed that in the experimental tested conditions rAcLEA has the spectral profile of an IDP. Therefore, in order to further explore the conformational properties of rAcLEA, CD spectra were recorded in the far UV region. rAcLEA was dissolved in 10 mM phosphate buffer pH 8.0 at different NaCl or sorbitol concentrations (Furuki et al., 2011; Wu et al., 2014; Warner et al., 2016). As shown in Figure 4A, the AcLEA spectra were not modified by NaCl nor sorbitol presence. All these CD spectra show a negative signal near 200 nm and weak bands in the 210–220 region, suggesting a low secondary structure content. In agreement, the deconvolution of the spectra using the CDNN program (Bohm et al., 1992) indicates a limited content of secondary structure (Supplementary Table S1). Because it is well known that the temperature-induced conformational changes (Soulages et al., 2002), then the curves as a function of temperature at different wavelengths (210, 222, and 230 nm) were followed. For all samples at all the wavelengths tested, the ellipticity signal barely changed with temperature (Figure 4B). In agreement, the spectra obtained at 20°C before and after the heating cycle as well as that obtained at 75°C were very similar (Supplementary Figure S6). The lack of a temperature-induced transition strongly suggests that if secondary structure segments are formed, those segments are fluctuating and do not participate in the compact core structure.