Regulatory role of G9a and LSD1 in the Transcription of Olfactory Receptors during Leukaemia Cell Differentiation
ABSTRACT
---
Recent studies have reported the ectopic expression of olfactory receptors (ORs) in non-olfactory tissues, however, their physiological roles were not well elucidated. ORs are expressed in and function in different types of cancers. Here, we identified that the H3K9me2 levels of several OR promoters decreased during differentiation in the HL-60, human myeloid leukaemia cell line, by all-trans-retinoic acid (ATRA). We found that the differential OR promoters H3K9me2 levels were regulated by G9a and LSD1, resulting in the decrease of ORs transcription during HL-60 differentiation. G9a and LSD1 could regulate the expression of ORs in several non-olfactory cells via the methylation and demethylation of H3K9me2. In addition, we demonstrated that knockdown of OR significantly reduced cell proliferation. Therefore, the epigenetic regulation of ORs transcription is critical for carcinogenesis.
No MeSH data available.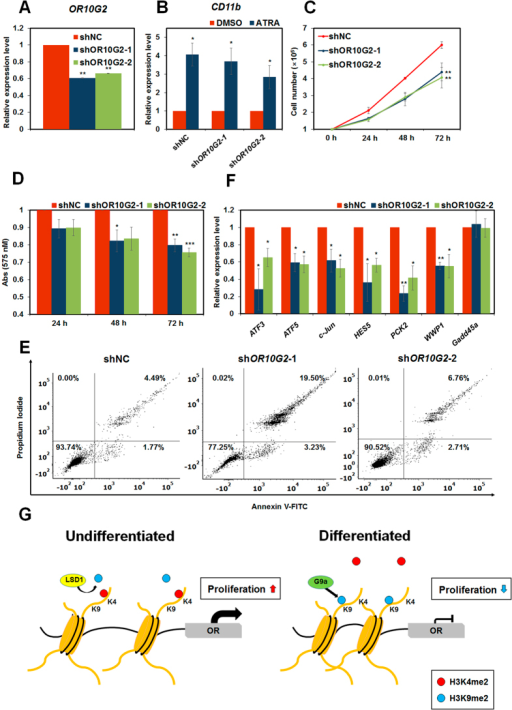 © Copyright Policy - open-access
License
getmorefigures.php?uid=PMC5384044&req=5
Mentions: Given the fact that the expression of ORs decreased during ATRA-mediated HL-60 differentiation, ORs may play important roles in leukaemia cell proliferation or differentiation. To analyse the function of ORs in HL-60 cells, we designed shRNAs targeting OR10G2 and generated stable OR10G2 knockdown HL-60 cells (Fig. 4A). We first analysed the expression of HL-60 differentiation marker, CD11b38. OR10G2 knockdown had no effect on CD11b expression level (Fig. 4B). Next, we performed cell counting and MTT assays whether cell proliferation changes caused by OR10G2 knockdown (Fig. 4C and D). Importantly, the growth of stable OR10G2 knockdown HL-60 cells was significantly lower than that of control HL-60 cells. Using fluorescence-activated cell sorting (FACS) analysis, we found that shOR10G2-1 and shOR10G2-2 cells exhibited decreased proportions of live cells (93.74% to 77.25% and 90.52%, respectively) and increased proportions of apoptotic cells (4.49% to 19.50% and 6.72%) compared to control cells (Fig. 4E). These data suggest that OR10G2 affects the cell proliferation in HL-60 cells. To further analyse molecular mechanism by OR10G2 knockdown, we checked the expression level of several cell proliferation-related genes, ATF3, ATF5, C-Jun, HES5, PCK2 and WWP1 and anti-proliferation gene, Gadd45a, as a control in stable OR10G2 knockdown HL-60 cells39404142434445. As expected, these genes are significantly downregulated in stable OR10G2 knockdown HL-60 cells, while the mRNA level of Gadd45a was not changed (Fig. 4F). These data show the regulatory roles of ORs in the proliferation of HL-60 cells, although ORs do not regulate directly HL-60 differentiation. Collectively, our results demonstrate that the regulation of OR transcription by G9a and LSD1 plays an important role in the proliferation of HL-60 cells, and that aberration of this regulation may contribute to leukaemogenesis.