Regulatory role of G9a and LSD1 in the Transcription of Olfactory Receptors during Leukaemia Cell Differentiation
ABSTRACT
---
Recent studies have reported the ectopic expression of olfactory receptors (ORs) in non-olfactory tissues, however, their physiological roles were not well elucidated. ORs are expressed in and function in different types of cancers. Here, we identified that the H3K9me2 levels of several OR promoters decreased during differentiation in the HL-60, human myeloid leukaemia cell line, by all-trans-retinoic acid (ATRA). We found that the differential OR promoters H3K9me2 levels were regulated by G9a and LSD1, resulting in the decrease of ORs transcription during HL-60 differentiation. G9a and LSD1 could regulate the expression of ORs in several non-olfactory cells via the methylation and demethylation of H3K9me2. In addition, we demonstrated that knockdown of OR significantly reduced cell proliferation. Therefore, the epigenetic regulation of ORs transcription is critical for carcinogenesis.
No MeSH data available.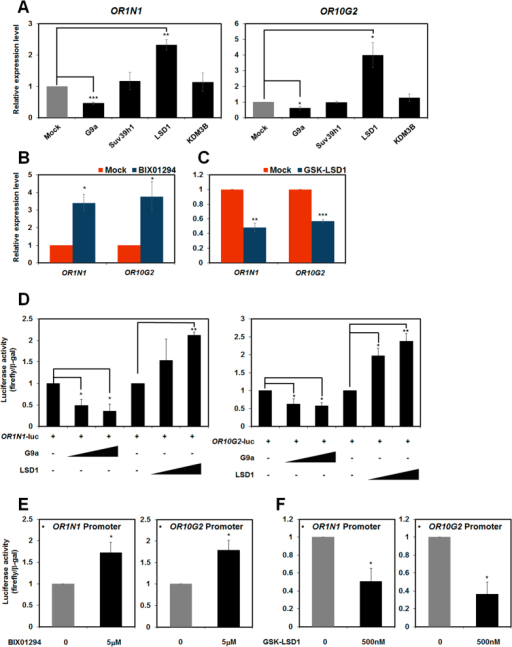 © Copyright Policy - open-access
License
getmorefigures.php?uid=PMC5384044&req=5
Mentions: Epigenetic regulations of tumour suppressors, miRNAs, and transcription factors involved in the differentiation of leukaemic cells829303132333435. To further investigate the epigenetic regulation of ORs, we overexpressed several epigenetic modifiers that are well known to regulate H3K9me2. H3K9me2 is added by G9a and Suv39h1, and removed by KDM3B1293637. We also tested LSD1, which functions as both a transcriptional activator and repressor by removing H3K4me2 and H3K9me2, respectively910. G9a repressed expression of OR1N1 and OR10G2 in HCT116 and H1299 cells in manners similar to those reported in olfactory neurons, while Suv39h1 had no effect (Fig. 2A). In addition, LSD1 activated OR1N1 and OR10G2 expression in HCT116 and H1299 cells, suggesting that LSD1 can function as a H3K9me2 demethylase in OR expression (Fig. 2A). However, KDM3B could not regulate the expression of ORs. The regulation of OR4F6 and OR7A17 by G9a and LSD1 were also detected in 293T cells (Supplementary Figure S1A). These data indicated that G9a and LSD1 could regulate ORs expression in olfactory neurons and other cell lines including HCT116, H1299 and 293T. Furthermore, the expression levels of OR1N1, OR4F6, OR7A17, and OR10G2 in HL-60 cells increased and decreased following shRNA knockdown of G9a and LSD1, respectively (Supplementary Figure S1B and C). Treatment with the G9a specific inhibitor, BIX01294, also resulted in increased expression of ORs (Fig. 2B and Supplementary Figure S1D). However, the GSK-LSD1, LSD1 specific inhibitor, repressed the expression of ORs (Fig. 2C and Supplementary Figure S1E). Taken together, these results suggest that G9a represses, and LSD1 activates OR expression in HL-60 cells. Moreover, MEF G9a knockout cells exhibited increased expression of the mouse orthologues of OR1N1 and OR10G2, Olfr351 and Olfr1510 compared to wild type cells (Supplementary Figure S1F). These data demonstrate that G9a and LSD1 play key regulatory roles in the expression of ORs in different cell lines.