Sequential Exposure to Obesogenic Factors in Females Rats: From Physiological Changes to Lipid Metabolism in Liver and Mesenteric Adipose Tissue
ABSTRACT
---
During their lifetime, females are subjected to different nutritional and hormonal factors that could increase the risk of obesity and associated comorbidities. From early postnatal periods until the postmenopausal phase, exposure to over nutrition, high-energy diet and oestrogen deficiency, are considered as significant obesity risk factors in women. In this study, we assessed how key transitional life events and exposure to different nutrition influence energy homeostasis in a rat model. Specifically, we assessed the sequential exposure to postnatal over nutrition, high-fat diet (HFD) after weaning, followed later by ovariectomy (OVX; as a model of menopause). Each obesity risk factor increased significantly body weight (BW) and adiposity, with additive effects after sequential exposure. Increased energy intake in both HFD and/or OVX groups, and decreased locomotor activity and energy expenditure after OVX can explain these metabolic changes. Our study also documents decreased lipogenic pathway in mesenteric adipose tissue after HFD and/or OVX, independent of previous postnatal programming, yet only HFD evoked this effect in liver. In addition, we report an increase in the expression of the hepatic PEPCK depending on previous metabolic status. Overall, our results identify the impact of different risk factors, which will help in understanding the development of obesity in females.
No MeSH data available.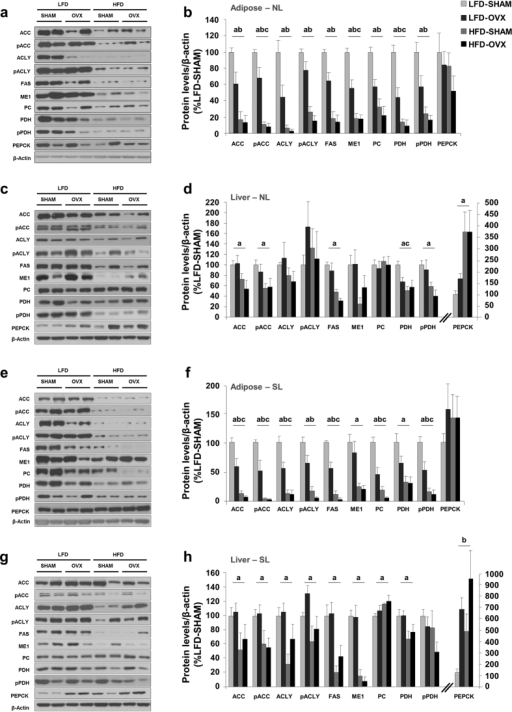 © Copyright Policy - open-access
License
getmorefigures.php?uid=PMC5384043&req=5
Mentions: The expression of proteins involved in metabolic homeostasis was measured in tissues from animals at PND120. To simplify understanding, NL and SL analyses are shown separately. In mesenteric adipose tissue of NL animals, we observed a significant reduction in expression of each of the enzymes we analysed following exposure to both HFD and OVX (the exception was phosphoenolpyruvate carboxykinase, PEPCK, which did not change). Because of the marked effect exerted by exposure to HFD alone, no further effect of concomitant exposure to OVX was measured (Fig. 5a and b). The specificity of these results was tested in liver extracts from the same animals. Here, less effect of HFD was observed, with acetyl-CoA carboxylase (ACC), pACC, fatty acid synthase (FAS), pyruvate dehydrogenase (PDH) and pPDH all decreased, while PEPCK was increased (Fig. 5c and d). On the other hand, as in NL animals, similar pattern expression was observed in mesenteric adipose tissue of postnatal over fed animals (SL). Thus, both HFD and OVX factors caused greater decrease in expression in SL than in NL animals, suggesting postnatal over feeding enhances the inhibitory effect of the other obesity risk factors. No expression changes were observed in PEPCK in adipose tissue of SL animals (Fig. 5e and f). The enhanced effect of postnatal over feeding was also observed in the liver of animals subjected to HFD, independent of ovariectomy. Moreover, in the liver of SL animals an increase PEPCK expression was observed in oestrogen deficiency (Fig. 5g and h).