Sequential Exposure to Obesogenic Factors in Females Rats: From Physiological Changes to Lipid Metabolism in Liver and Mesenteric Adipose Tissue
ABSTRACT
---
During their lifetime, females are subjected to different nutritional and hormonal factors that could increase the risk of obesity and associated comorbidities. From early postnatal periods until the postmenopausal phase, exposure to over nutrition, high-energy diet and oestrogen deficiency, are considered as significant obesity risk factors in women. In this study, we assessed how key transitional life events and exposure to different nutrition influence energy homeostasis in a rat model. Specifically, we assessed the sequential exposure to postnatal over nutrition, high-fat diet (HFD) after weaning, followed later by ovariectomy (OVX; as a model of menopause). Each obesity risk factor increased significantly body weight (BW) and adiposity, with additive effects after sequential exposure. Increased energy intake in both HFD and/or OVX groups, and decreased locomotor activity and energy expenditure after OVX can explain these metabolic changes. Our study also documents decreased lipogenic pathway in mesenteric adipose tissue after HFD and/or OVX, independent of previous postnatal programming, yet only HFD evoked this effect in liver. In addition, we report an increase in the expression of the hepatic PEPCK depending on previous metabolic status. Overall, our results identify the impact of different risk factors, which will help in understanding the development of obesity in females.
No MeSH data available.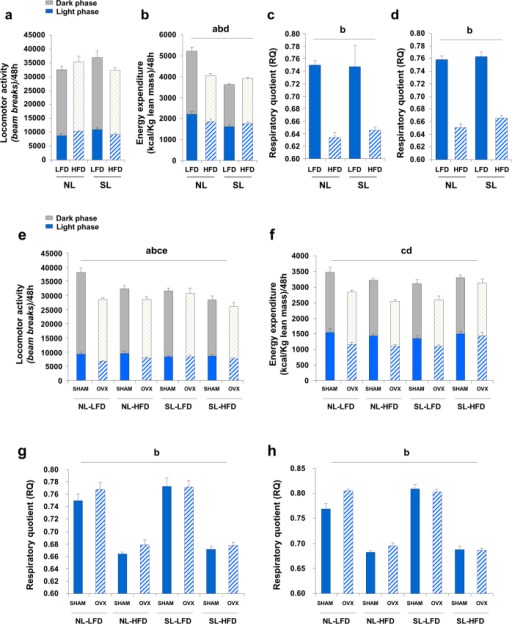 © Copyright Policy - open-access
License
getmorefigures.php?uid=PMC5384043&req=5
Mentions: In order to investigate whether body weight and composition changes also are dependent on energy expenditure, rats underwent indirect calorimetry and activity analysis before ovariectomy. At PND90, no significant differences were found in locomotor activity (Fig. 4a). However, energy expenditure (kcal/kg lean mass), exhibited a strong interaction between the postnatal over feeding and HFD, with a significant decrease evident during the dark phase. HFD reduced energy expenditure in NL but not in SL animals, since these already showed a decrease in energy expenditure (Fig. 4b). For a deeper analysis of the data2930, we applied more stringent statistical tests (general linear model [GLM] and analysis of covariance [ANCOVA]) (Supplemental Data Fig.1S). Thus, considering lean tissue weight as a covariate, results showed that the differences observed were dependent lean mass and not on the individual risk factors studied (although we found that postnatal over feeding and HFD modified the effect of lean tissue). A decrease in respiratory quotient (RQ) was observed in both light (Fig. 4c) and dark phase (Fig. 4d) when animals were fed with HFD and this was independent of postnatal programming. When we performed indirect calorimetry studies at PND120, we observed a statistically significant effect of postnatal over feeding and HFD, and extremely significant OVX effect on locomotor activity (Fig. 4e). Thus, as obesogenic factors were added, locomotor activity fell. Notably, in oestrogen-deficient conditions, locomotor activity was reduced irrespective of the other factors. In other words, only the sum of postnatal over feeding and HFD, could reduce locomotor activity level to the same extent as ovariectomy alone.