Integrated proteomic analysis of Brachypodium distachyon roots and leaves reveals a synergistic network in the response to drought stress and recovery
ABSTRACT
---
In this study, we performed the first integrated physiological and proteomic analysis of the response to drought and recovery from drought, using Brachypodium distachyon L. Roots and leaves. Drought stress resulted in leaves curling, root tips becoming darker in color and significant changes in some physiological parameters. Two-dimensional difference gel electrophoresis (2D-DIGE) identified 78 and 98 differentially accumulated protein (DAP) spots representing 68 and 73 unique proteins responding to drought stress and/or recovery in roots and leaves, respectively. Differences between the root and leaf proteome were most marked for photosynthesis, energy metabolism, and protein metabolism. In particular, some DAPs involved in energy and protein metabolism had contrasting accumulation patterns in roots and leaves. Protein-protein interaction (PPI) analysis of roots and leaves revealed complex protein interaction networks that can generate synergistic responses to drought stress and during recovery from drought. Transcript analysis using quantitative real-time polymerase chain reaction (qRT-PCR) validated the differential expression of key proteins involved in the PPI network. Our integrated physiological and proteomic analysis provides evidence for a synergistic network involved in responses to drought and active during recovery from drought, in Brachypodium roots and leaves.
No MeSH data available.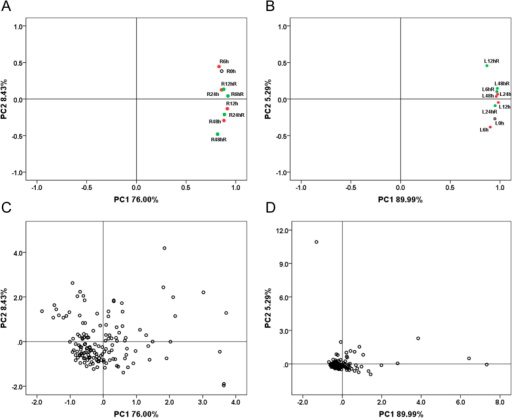 © Copyright Policy - open-access
License
getmorefigures.php?uid=PMC5384013&req=5
Mentions: Principal component analysis (PCA) can be used to identify affected protein species, potential outliers, and clusters3536. Figure 4 demonstrates that protein samples from leaves of the drought treatment seedling group (L6 h, L12 h, L24 h, and L48 h) and the recovery seedling group (L6 hR, L12 hR, L24 hR, and L48 hR) differ from the controls (0 h) in PCA plots (Fig. 4A). This indicates that the leaf proteome was significantly altered under both drought and subsequent recovery conditions compared with a control sample. Similarly, protein samples from roots of the drought treatment (R6 h, R12 h, R24 h, and R48 h) and recovery groups (R6 hR, R12 hR, R24 hR, and R48 hR) also differed from control samples (Fig. 4B). PCA of DAP spots in roots and leaves (Fig. 4C,D) demonstrated that some protein spots were isolated from the others, and that there were more potential outliers in roots than in leaves, suggesting a stronger response to drought stress and during subsequent recovery from drought in roots than in leaves. The isolated protein spots were considered potential outliers and prioritized for MALDI-TOF/TOF-MS analysis. A total of 176 DAP spots were identified using tandem mass spectrometry. Of these, 78 and 98 representing 68 and 74 unique protein species were identified from roots and leaves, respectively (Tables S2 and 3). In addition, 15 DAP spots showed differential accumulation in both roots and leaves (Table S5).