Characterization and genomic analyses of two newly isolated Morganella phages define distant members among Tevenvirinae and Autographivirinae subfamilies
ABSTRACT
---
Morganella morganii is a common but frequent neglected environmental opportunistic pathogen which can cause deadly nosocomial infections. The increased number of multidrug-resistant M. morganii isolates motivates the search for alternative and effective antibacterials. We have isolated two novel obligatorily lytic M. morganii bacteriophages (vB_MmoM_MP1, vB_MmoP_MP2) and characterized them with respect to specificity, morphology, genome organization and phylogenetic relationships. MP1's dsDNA genome consists of 163,095 bp and encodes 271 proteins, exhibiting low DNA (<40%) and protein (<70%) homology to other members of the Tevenvirinae. Its unique property is a >10 kb chromosomal inversion that encompass the baseplate assembly and head outer capsid synthesis genes when compared to other T-even bacteriophages. MP2 has a dsDNA molecule with 39,394 bp and encodes 55 proteins, presenting significant genomic (70%) and proteomic identity (86%) but only to Morganella bacteriophage MmP1. MP1 and MP2 are then novel members of Tevenvirinae and Autographivirinae, respectively, but differ significantly from other tailed bacteriophages of these subfamilies to warrant proposing new genera. Both bacteriophages together could propagate in 23 of 27 M. morganii clinical isolates of different origin and antibiotic resistance profiles, making them suitable for further studies on a development of bacteriophage cocktail for potential therapeutic applications.
No MeSH data available.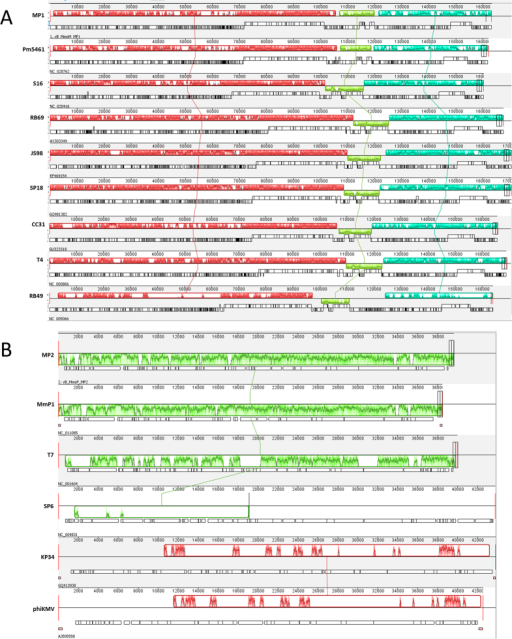 © Copyright Policy - open-access
License
getmorefigures.php?uid=PMC5384007&req=5
Mentions: The Bacterial and Archaeal Viruses Subcommittee of the International Committee on Taxonomy of Viruses (ICTV) has taken a holistic approach to the classification of phages, employing overall DNA and protein sequence identities coupled with phylogenetic analyses5657. An initial BLASTN analysis of the complete genome sequence of MP1 revealed that Proteus phage Pm5461 is its closest relative, but these phages only share 39% overall sequence identity. Phage MP2, only exhibits significant overall DNA sequence identity of 70% with Morganella phage MmP1, as the sequence identity decreased below 40% when compared to other phages. Therefore, the creation of novel genus containing only MP1 on one hand and grouping MP2 together with MmP1 on the other hand seems appropriate at this stage. Nevertheless, owing to low nucleotide homology found with MP1 and MP2 against other viruses, we decided to perform multiple genome alignments with all prototype viruses currently classified within Tevenvirinae and Autographivirinae subfamilies, respectively, using progressiveMauve (Fig. 4). Within the T-even phages, despite being classified as a different genus, a remarkable synteny in three large conserved regions (>10 Kb) is observed. Interestingly, Mauve alignment also demonstrated that the second block of MP1, which is similar to Pm5461, is inverted when compared to the remaining phages, suggesting a local adaptive evolution due to genetic drift. As for Autographivirinae phages, a more extensive re-arrangement between the sequence-blocks was observed. Overall, MP2 genome was only collinear with an MmP1 and T7. These results were also further supported using sequence dot plots (Figure S2). In the case of MP1, an interrupted but straight diagonal lines against other Teven phages, being the phage Pm5461 the one with highest score. MP2 only presented homology to phages T7 and MmP1, being the latter with an evident higher score.