OsLG3 contributing to rice grain length and yield was mined by Ho-LAMap
ABSTRACT
---
Background: Most agronomic traits in rice are complex and polygenic. The identification of quantitative trait loci (QTL) for grain length is an important objective of rice genetic research and breeding programs.
Results: Herein, we identified 99 QTL for grain length by GWAS based on approximately 10 million single nucleotide polymorphisms from 504 cultivated rice accessions (Oryza sativa L.), 13 of which were validated by four linkage populations and 92 were new loci for grain length. We scanned the Ho (observed heterozygosity per locus) index of coupled-parents of crosses mapping the same QTL, based on linkage and association mapping, and identified two new genes for grain length. We named this approach as Ho-LAMap. A simulation study of six known genes showed that Ho-LAMap could mine genes rapidly across a wide range of experimental variables using deep-sequencing data. We used Ho-LAMap to clone a new gene, OsLG3, as a positive regulator of grain length, which could improve rice yield without influencing grain quality. Sequencing of the promoter region in 283 rice accessions from a wide geographic range identified four haplotypes that seem to be associated with grain length. Further analysis showed that OsLG3 alleles in the indica and japonica evolved independently from distinct ancestors and low nucleotide diversity of OsLG3 in indica indicated artificial selection. Phylogenetic analysis showed that OsLG3 might have much potential value for improvement of grain length in japonica breeding.
Conclusions: The results demonstrated that Ho-LAMap is a potential approach for gene discovery and OsLG3 is a promising gene to be utilized in genomic assisted breeding for rice cultivar improvement.
Electronic supplementary material: The online version of this article (doi:10.1186/s12915-017-0365-7) contains supplementary material, which is available to authorized users.
No MeSH data available.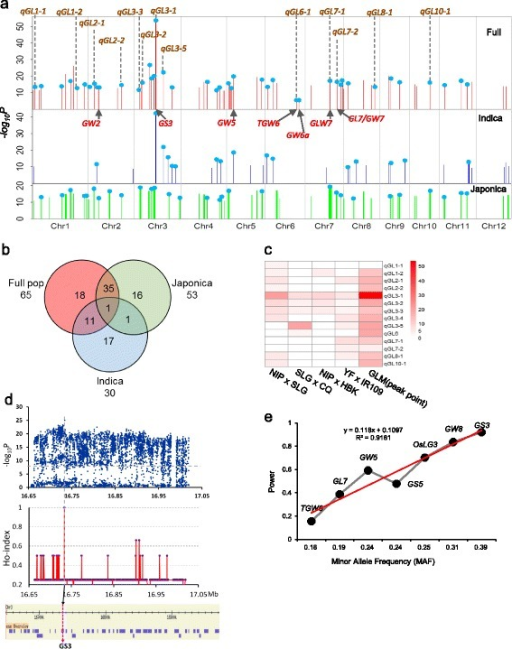 © Copyright Policy - OpenAccess
License 1 - License 2


getmorefigures.php?uid=PMC5383996&req=5

Mentions: We investigated grain length in a diverse panel of 504 cultivated rice varieties from worldwide sources (Additional file 1: Figure S1 and Additional file 32: Table S1, Additional file 33: Table S2) grown in five environments at two different latitudes (Additional file 33: Table S3). The panel consisted of the mini core collection [25] and varieties in the International Rice Molecular Breeding Network [26] and have, as part of the rice 3000 genome project, been sequenced with an average sequencing depth of 14.9× (Data access). After aligning the reads against the rice reference genome of the temperate japonica variety, Nipponbare, we identified a total of 10 million SNPs (1 SNP per 40 bp on average) from these accessions and 3,585,229 SNPs with missing rates of less than 30% and a 0.05 minor allele frequency (MAF). GWAS was performed on different populations using the naïve model (LM), general linear model (GLM) with population structure (Q matrix), and compressed mixed linear model (CMLM) by controlling population structure and kinship, denoted by the Q + K model according to Yu et al. [27, 28] (Additional file 3: Figure S3a–c, Additional file 34: Table S5, Additional file 35: Table S6, Additional file 36: Table S7, Additional file 37: Table S8, and Methods). LM not only detected all the cloned genes and published QTL related to rice grain length, but also indicated a whole genome association signal in all types of populations, and thus included a very high number of false positive associations (Additional file 3: Figure S3a). When using CMLM and setting –log10 (P) = 7.9 (P = 0.05/n, n denotes the number of all SNPs), we detected only two, two, and four QTL in the full, indica, and japonica populations, respectively, of which one is the cloned gene GS3, one is a published QTL in both full and indica populations, and one is a published QTL in japonica (Additional file 3: Figure S3b and Additional file 34: Table S5). When using GLM and the same –log10 (P), we detected 65, 30, and 53 QTL in the full, indica, and japonica populations, respectively, and these QTL hit seven (GW2, GS3, GW5, GW6a, TGW6, GL7, and GLW7), two (GS3 and GW5), and three (GW2, GL7, and GLW7) cloned genes, respectively, and about 65%, 53%, and 57% of the published QTL (Fig. 1a, b and Additional file 35: Table S6, Additional file 36: Table S7, Additional file 37: Table S8). However, four genes from map-based cloning (GS2, GL3.1, GS5, and GW8) were not identified by the model because of the rarity of causal variants, or strong correlation between causal variation and population structure. Most of the genes being separated by map-based cloning involve rare causal variations and cannot be identified by GWAS, such as GS2 and GL3.1 (Additional file 33: Table S9). Some other genes cannot be detected by GLM because the frequency of their causal variation confound with population structure (Additional file 4: Figure S4). For example, even though GW8 and GS5 displayed the high association signals in LM (–log10 (P) = 19.0 and 17.8), their signal in GLM decreased to 1.2 and 4.9, and GW8 indicated no significance by simple t-test when removing effect of Q structure from their original phenotypes (Additional file 5: Figure S5). Taken together, these results suggested that there were still many valuable genes for grain length that remained to be cloned.Fig. 1