Intestinal and neurological involvement in Behcet disease: a clinical case
ABSTRACT
---
Background: Behcet's disease (BD) is a chronic immune-mediated, inflammatory disorder which may affect a number of different systems (oral and genital mucosa, eyes, skin, vascular district, joints, gastrointestinal tract and nervous system). Neurological manifestations are present in 5–10%, and gastrointestinal tract involvement in 10–15% of cases. The simultaneous involvement of two systems, neurological and gastrointestinal tract, is very rare and represents the aim of our case report.
Case presentation: We describe a case of a 12-year-old girl with neurological (endocranial hypertension, papilledema, retinal vasculitis) and gastrointestinal tract (terminal ileum and cecum inflammation) involvement and with a history of recurrent oral aphthosis; therefore, according to both International Criteria for Behcet's Disease (ICBD) and Paediatric Behcet's Disease criteria (PEDBD) the diagnosis of BD was confirmed.
Conclusions: This case report is one of the few described in literature with simultaneous involvement of the two systems, neurological and gastrointestinal tract, in paediatric BD. The diagnosis is really difficult because there is no specific diagnostic test. We think that our clinical case should help clinicians to suspect a BD with an unusual onset.
No MeSH data available.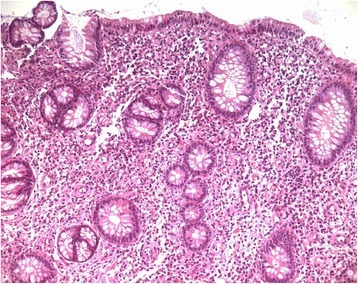 © Copyright Policy - OpenAccess
License 1 - License 2


getmorefigures.php?uid=PMC5383959&req=5

Mentions: A 12-year-old child was admitted to our Unit after 2 weeks of persistent symptoms of headache, nausea and abdominal pain. Physical examination revealed stiff neck, left oculomotor paresis, left facial nerve paresis, left hemiparesis; laboratory tests showed a neutrophilic leukocytosis, thrombocytosis, increased C-reactive protein and a raised erythrocite sedimentation rate. Ophthalmological exam and fundus evaluation showed a bilateral papilledema and retinal vasculitis with loss of visual acuity. Brain computed tomography (CT) scan was performed and was normal. A brain magnetic resonance imaging (MRI) confirmed papilledema and showed a mild inversion of the optic papilla on the optic disk on both sides, with prominent subaracnoid space around the optic nerves, and a partially empty sella turcica. These findings appeared compatible with a condition of Pseudotumor cerebri (PTC) (Fig. 1). Therefore, a lumbar puncture was performed and revealed elevated cerebrospinal fluid pressure and oligoclonal bands of IgG, which were found also in the blood serum. Infective diseases were excluded. In the following days, abdominal pain and rectal bleeding appeared. Faecal calprotectin was increased, ANCA and ASCA autoantibodies were negative, HLA B51 was not found; a pathergy test was performed and the results were negative. Abdominal ultrasound revealed thickening of the ascending colon walls and cecal area, with a maximum thickness of about 6 mm with the loss of regular parietal stratification, and a subsequent abdominal CT documented wall thickening of the last ileal loop and the proximal of the blind, which is associated with edematous imbibition of surrounding fatty tissue. An endoscopic evaluation was performed: ileo-colonscopy showed round-shaped ulcers with active bleeding in the ileal region and esophagogastroduodenoscopy showed gastric aphtous lesions. In addiction, a history of recurrent oral minor aphtosis (3-4 episodes/year) was highlighted about two years before; then, according to ICBD and PEDBD criteria, the diagnosis of BD with intestinal and neurological involvement was suspected and three-day therapy with endovenous methylprednisolone (1 gr/die) was started, followed by oral corticosteroid and cyclophosphamide replaced after three months by mycophenolate mofetil. Clinical symptoms gradually improved with regression of gastrointestinal bleeding and complete remission of the neurological manifestations of the PTC. Histological findings of the ileal mucosa showed swollen vascular endothelial cells of capillary vessels and small blood vessels, fibrotic necrosis of small vessels and bleeding, diffuse perivascular lymphocytic in mucosa and submucosa suggestive of intestinal vasculitis (Fig. 2). Treatment with corticosteroids and mycophenolate mofetil was followed for several months with the disappearance of neurological and gastrointestinal symptoms. The steroids dose was gradually reduced, with subsequent relapsing of gastrointestinal symptoms. A magnetic resonance enterography was performed to evaluate the small-bowel and showed marked inflammatory changes of the terminal ileum and cecum with diffuse bowel-wall thickening and polypoid appearance. Localized fibrofatty proliferation and mesenteric vascular engorgement were also detected. Treatment with Adalimumab was started with transient improvement. After three months, the gastrointestinal symptoms relapsed again and the patient was submitted to urgent terminal-ileum resection for terminal ileal perforation (Fig. 3). Histological examination of the surgically resected intestinal specimens showed thickening of the vessel wall and infiltration of inflammatory cells (i.e. neutrophils and mononuclear cells) in the vascular wall and perivascular area, compatible with submucosal phlebitis pattern. No post-operative complications were observed, the therapy with adalimumab was suspended and maintenance therapy with azathioprine was started. No post-operative primary intestinal recurrence has appeared in the following 2 years, during which the patient didn't presented oral aphtosis any more.Fig. 1