Validation of the Dutch version of the Swallowing Quality-of-Life Questionnaire (DSWAL-QoL) and the adjusted DSWAL-QoL (aDSWAL-QoL) using item analysis with the Rasch model: a pilot study
ABSTRACT
---
Background: The Swallowing Quality-of-Life Questionnaire (SWAL-QoL) is considered the gold standard for assessing health-related QoL in oropharyngeal dysphagia. The Dutch translation (DSWAL-QoL) and its adjusted version (aDSWAL-QoL) have been validated using classical test theory (CTT). However, these scales have not been tested against the Rasch measurement model, which is required to establish the structural validity and objectivity of the total scale and subscale scores. Thus, the purpose of this study was to examine the psychometric properties of these scales using item analysis according to the Rasch model.
Methods: Item analysis with the Rasch model was performed using RUMM2030 software with previously collected data from a validation study of 108 patients. The assessment included evaluations of overall model fit, reliability, unidimensionality, threshold ordering, individual item and person fits, differential item functioning (DIF), local item dependency (LID) and targeting.
Results: The analysis could not establish the psychometric properties of either of the scales or their subscales because they did not fit the Rasch model, and multidimensionality, disordered thresholds, DIF, and/or LID were found. The reliability and power of fit were high for the total scales (PSI = 0.93) but low for most of the subscales (PSI < 0.70). The targeting of persons and items was suboptimal. The main source of misfit was disordered thresholds for both the total scales and subscales. Based on the results of the analysis, adjustments to improve the scales were implemented as follows: disordered thresholds were rescaled, misfit items were removed and items were split for DIF. However, the multidimensionality and LID could not be resolved. The reliability and power of fit remained low for most of the subscales.
Conclusions: This study represents the first analyses of the DSWAL-QoL and aDSWAL-QoL with the Rasch model. Relying on the DSWAL-QoL and aDSWAL-QoL total and subscale scores to make conclusions regarding dysphagia-related HRQoL should be treated with caution before the structural validity and objectivity of both scales have been established. A larger and well-targeted sample is recommended to derive definitive conclusions about the items and scales. Solutions for the psychometric weaknesses suggested by the model and practical implications are discussed.
Electronic supplementary material: The online version of this article (doi:10.1186/s12955-017-0639-3) contains supplementary material, which is available to authorized users.
No MeSH data available.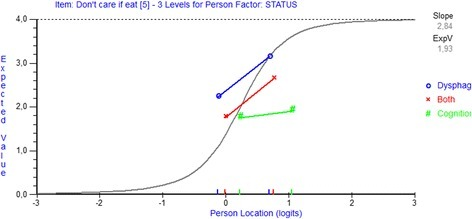 © Copyright Policy - OpenAccess
License 1 - License 2


getmorefigures.php?uid=PMC5383953&req=5

Mentions: The analysis revealed that the reliability was good, with a PSI of 0.93 and an excellent power of fit without extreme scores. However, the total DSWAL-QoL scale was found to misfit to the Rasch model as indicated by the item FR SD and person FR SD > 1.4, and by the presence of a significant item-trait interaction (Table 2). Multidimensionality was present as confirmed by the 16.09% statistically significant different person estimates based on the two subsets of items. Disordered thresholds were found in 38 items, which indicated that the categorization of these items did not work as intended (Table 3). For example, the category probability curve for item 22 revealed that the estimates of the thresholds defining categories 2 and 3 did not form distinctive regions on the latent trait; therefore, these scores (i.e., 'somewhat' and 'a little') were at no time the most probable responses (Fig. 2). Seven items did not fit (items 5, 6, 7, 32, 34, 40 and 41; Table 3), and the individual person fit revealed that 11 persons fell outside the FR range of ± 2.5. As illustrated in Fig. 3, item 5 exhibited a uniform DIF by group for all three groups, and the cognitive group obtained a prominently lower score compared with the those of persons in the other two groups given an equal ability level. Residual correlations > 0.3 were found for clusters of items within and across subscales; thus, LID was present. To achieve a satisfactory overall model fit, it was necessary to rescore 38 items. For example, scores 2 and 3 for item 22 were collapsed into the score '1'; therefore, the Rasch-suggested scoring solution revealed a three-point response category, i.e., '0, 1 and 2,' for this item (Additional file 1). During this process of rescoring items, three additional items exhibited disordered thresholds and were also rescored. It was also necessary to delete six items (items 5, 6, 7, 34, 40 and 41; Table 2). The overall model fit improved for the items and no further DIF was present. However, the overall fit worsened for the person FR SD, the item-trait interaction remained significant, and 14 persons did not fit. Due to the limited sample size, the misfit persons were not removed. Multidimensionality remained despite the adjustments, and LID could not be resolved due to its unclear pattern.Fig. 2