Modulation of leg joint function to produce emulated acceleration during walking and running in humans
ABSTRACT
---
Understanding how humans adapt gait mechanics for a wide variety of locomotor tasks is important for inspiring the design of robotic, prosthetic and wearable assistive devices. We aimed to elicit the mechanical adjustments made to leg joint functions that are required to generate accelerative walking and running, using metrics with direct relevance to device design. Twelve healthy male participants completed constant speed (CS) walking and running and emulated acceleration (ACC) trials on an instrumented treadmill. External force and motion capture data were combined in an inverse dynamics analysis. Ankle, knee and hip joint mechanics were described and compared using angles, moments, powers and normalized functional indexes that described each joint as relatively more: spring, motor, damper or strut-like. To accelerate using a walking gait, the ankle joint was switched from predominantly spring-like to motor-like, while the hip joint was maintained as a motor, with an increase in hip motor-like function. Accelerating while running involved no change in the primary function of any leg joint, but involved high levels of spring and motor-like function at the hip and ankle joints. Mechanical adjustments for ACC walking were achieved primarily via altered limb positioning, but ACC running needed greater joint moments.
No MeSH data available.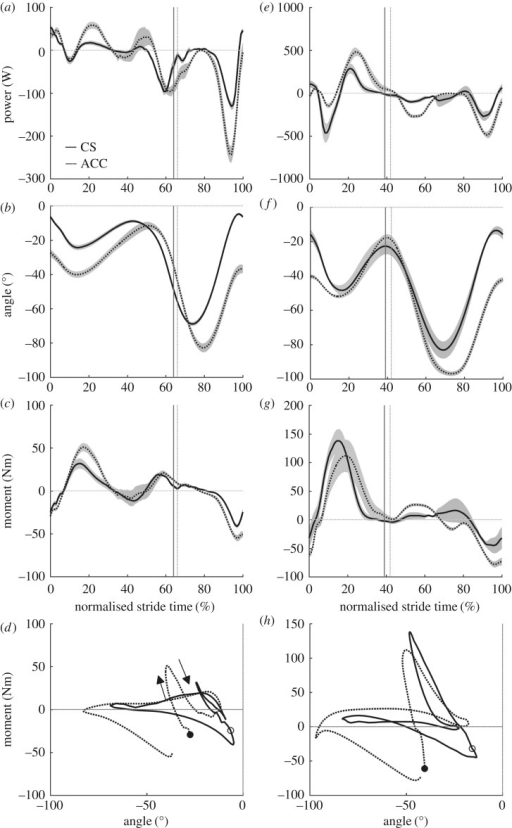 © Copyright Policy - open-access
License
getmorefigures.php?uid=PMC5383834&req=5
Mentions: There were no differences in average speed between CS and ACC for walking or running (table 1). During CS walking, the hip joint was characterized primarily by motor-like behaviour and its motor index increased for ACC walking (table 2). This increase in motor index was related to a large increase in positive net work at the hip (table 2) that resulted in part from an increase in hip joint extension during stance (ACC = 55 ± 8°, CS = 43 ± 4°, p = 0.003; figure 1b), but no significant increase in the average hip extension moment during stance phase positive power production (ACC = 44 ± 13 Nm, CS = 34 ± 6 Nm, p = 0.1; figure 1b–d). During the period of negative hip power in late stance (figure 1a), the extension of the hip was not different between CS and ACC, but the average hip moment was more negative (flexion moment) in ACC (ACC = −42 ± 14 Nm, CS = −31 ± 16 Nm, p = 0.04; figure 1b–d). The knee joint indexes showed that this joint acted primarily like a damper in both CS and ACC conditions, but with a slight shift to motor function for ACC (table 2). This increase in knee joint motor index occurred concurrently with an increase in both average knee joint moment (ACC = 33 ± 11 Nm, CS = 20 ± 10 Nm, p = 0.006; figure 2c) and knee joint extension during mid-stance (ACC = 29 ± 7°, CS = 16 ± 3°, p < 0.001; figure 2b). The ankle joint was characterized by predominantly spring-like function during CS walking, but the function of the ankle fundamentally switched to motor-like for ACC walking with its motor index changing from 4% in CS to 67% in ACC (table 2). The switch to motor-index occurred with no concurrent increase in average ankle joint moment during positive power production for ACC walking (ACC = 63 ± 13 Nm, CS = 59 ± 8 Nm, p = 0.28; figure 3c), but an increase in plantar flexion of the ankle during positive power production (ACC = 36 ± 9°, CS = 27 ± 5°, p = 0.004; figure 3b). The hip, knee and ankle joints were all more flexed or dorsiflexed at the instant of foot contact with the ground for ACC walking versus CS walking (ankle: ACC = −0.3 ± 2°, CS = 8 ± 2°, p < 0.001; knee: ACC = −28 ± 7°, CS = −7 ± 2°, p < 0.001; hip: ACC = −49 ± 5°, CS = −33 ± 4°, p < 0.001).Figure 1.