Evidence for a genetic sex determination in Cnidaria, the Mediterranean red coral ( Corallium rubrum )
ABSTRACT
---
Sexual reproduction is widespread among eukaryotes, and the sex-determining processes vary greatly among species. While genetic sex determination (GSD) has been intensively described in bilaterian species, no example has yet been recorded among non-bilaterians. However, the quasi-ubiquitous repartition of GSD among multicellular species suggests that similar evolutionary forces can promote this system, and that these forces could occur also in non-bilaterians. Studying sex determination across the range of Metazoan diversity is indeed important to understand better the evolution of this mechanism and its lability. We tested the existence of sex-linked genes in the gonochoric red coral (Corallium rubrum, Cnidaria) using restriction site-associated DNA sequencing. We analysed 27 461 single nucleotide polymorphisms (SNPs) in 354 individuals from 12 populations including 53 that were morphologically sexed. We found a strong association between the allele frequencies of 472 SNPs and the sex of individuals, suggesting an XX/XY sex-determination system. This result was confirmed by the identification of 435 male-specific loci. An independent test confirmed that the amplification of these loci enabled us to identify males with absolute certainty. This is the first demonstration of a GSD system among non-bilaterian species and a new example of its convergence in multicellular eukaryotes.
No MeSH data available.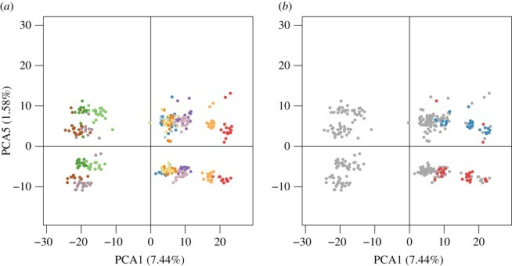 © Copyright Policy - open-access
License
getmorefigures.php?uid=PMC5383831&req=5
Mentions: While the first four principal components of the PCA highlighted neutral population genetic differences [24], the fifth axis (1.58% of explained variance) separated individuals from all populations in two clear groups that matched the male/female repartition of morphologically sexed individuals (figure 2). Only three individuals that were morphologically female appeared among males in the PCA. From this PCA, we identified potential females and males among individuals for which sex determination was not performed on the basis of the visible separation in two groups. Considering this separation, we postulate that the dataset comprised 169 females and 185 males, corresponding to a balanced sex ratio (p = 0.40, electronic supplementary material, table S5). The sex ratio was balanced also inside each population, except in ELV12, where it was significantly biased towards male individuals (70% of males; p = 0.03, electronic supplementary material, table S5). There were 472 SNPs with a contribution to the fifth axis of the PCA higher than 1% (electronic supplementary material, figure S2); these loci displayed the same allele fixed in almost all morphological females, and were at the heterozygous state in almost all morphological males. This observation was confirmed with PCA-identified males and females (figure 1b,c). The genotypes of these 472 SNPs enabled the sexing of 95% of individuals for the whole dataset. Among these SNPs, when considering only morphologically sexed individuals, 379 SNPs were fixed in all females, 59 were at the heterozygous state in all males (the remaining SNPs were at the heterozygous state in almost all males). Fifty-five SNPs were in these two categories and were therefore diagnostic of sex for the morphologically sexed individuals. Identification of such SNPs that were homozygous in females and heterozygous in males suggested an XX/XY sex-determination system in the red coral, with a non-recombining XY-like region. Of the SNPs leading the fifth PCA axis, 347 were fixed in all PCA-identified females. However, none of these SNPs was at the heterozygous state in 100% of PCA-identified males. SNPs that were strictly homozygous in females and heterozygous in males were found inside each population and geographical region, but none was common to the three geographical regions. Furthermore, even if we did not observe markers that were heterozygous in 100% of males, these markers remain at the heterozygous state in the majority of males: 303 of these 472 sex-linked markers were at the heterozygous state in more than 70% of all males. The absence of markers diagnostic of sex in the overall dataset may indicate that these loci were submitted to a low but non- recombination rate, as is the case when sexual chromosomes have recently diverged, or near the boundary of pseudoautosomal regions, where recombination is more frequent than in fully sex-linked regions [25,26]. It could also be the result of polymorphism within the restriction sites on the Y chromosome (i.e. allele dropout) making it impossible to observe the Y allele with RAD-Seq in some populations [27]. A low rate of mutation, recombination or allele dropout could suffice to make a marker go from diagnostic (heterozygous in 100% of males) to sex-linked but not diagnostic (heterozygous in less than 100% of males). For these different reasons, it may be difficult to identify strictly diagnostic loci common to all populations for such species with a strong genetic structure. Nevertheless, even if diagnostic markers of sex were not found at the scale of the overall dataset, the multilocus analysis enabled us to identify clearly males and females. Sex-linked polymorphisms identified by RAD-Seq have been found in the pistachio (Pistacia vera) and the salmon louse (Lepeophtheirus salmonis), where authors identified markers being heterozygous in females and homozygous in males, and suggested a ZW/ZZ system [28,29]. These polymorphisms have also been found in the Atlantic halibut (Hippoglossus hippoglossus), the Nile tilapia (Oreochromis niloticus) and the date palm (Phoenix dactylifera), where an XX/XY system was suggested [30–32]. Here, we highlighted a strong signal of sex-linked markers in our population genomic dataset. Considering the pattern of allele frequencies of these loci, they may be detected as being under balanced selection, which can easily lead to a misinterpretation of the signal when these loci are not expected (especially in species whose sex-determining system is unknown).Figure 2.