Changeable camouflage: how well can flounder resemble the colour and spatial scale of substrates in their natural habitats?
ABSTRACT
---
Flounder change colour and pattern for camouflage. We used a spectrometer to measure reflectance spectra and a digital camera to capture body patterns of two flounder species camouflaged on four natural backgrounds of different spatial scale (sand, small gravel, large gravel and rocks). We quantified the degree of spectral match between flounder and background relative to the situation of perfect camouflage in which flounder and background were assumed to have identical spectral distribution. Computations were carried out for three biologically relevant observers: monochromatic squid, dichromatic crab and trichromatic guitarfish. Our computations present a new approach to analysing datasets with multiple spectra that have large variance. Furthermore, to investigate the spatial match between flounder and background, images of flounder patterns were analysed using a custom program originally developed to study cuttlefish camouflage. Our results show that all flounder and background spectra fall within the same colour gamut and that, in terms of different observer visual systems, flounder matched most substrates in luminance and colour contrast. Flounder matched the spatial scales of all substrates except for rocks. We discuss findings in terms of flounder biology; furthermore, we discuss our methodology in light of hyperspectral technologies that combine high-resolution spectral and spatial imaging.
No MeSH data available.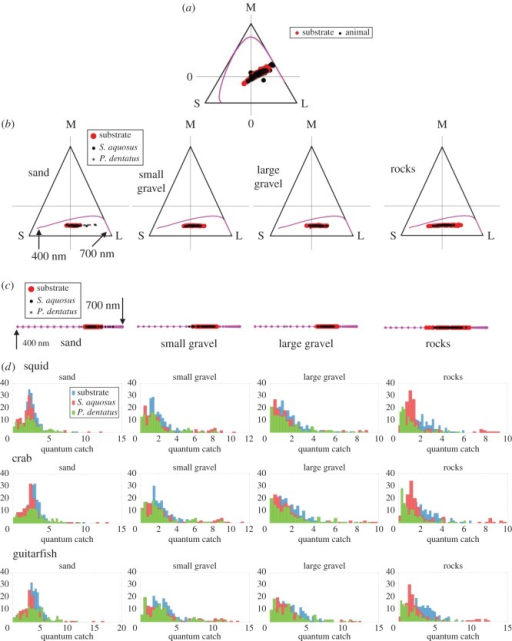 © Copyright Policy - open-access
License
getmorefigures.php?uid=PMC5383827&req=5
Mentions: Flounder body pattern varied depending on substrate. On a given substrate, all individuals (three per species) showed the same spectral response. We identified four distinct body areas that, depending on the substrate, were expressed in a range of intensities: (i) white spot, (ii) area surrounding white spot, (iii) black spot, and (iv) area surrounding black spot (figure 1b,c). Overall, there was a good match between flounder spectral reflectance and the reflectance of all four substrates (sand, small gravel, large gravel and rocks), as can be seen when looking at the spectral plots as well as the image insets in figures 2 and 3 (which depict one representative dataset of each flounder species on all four substrates). For both Paralichthys dentatus (figure 2) and Scophthalmus aquosus (figure 3), the spectral dataset has a wide range (shown in both figures are spectra from all four body areas, ranging from nearly white to nearly black). In terms of wavelength, the spectra (both flounder and substrates) are broadband, with very few distinct spectral shades. Overall, most of the spectra are a general 'brown' shade (specifically, the spectra with low y-axis values). Some spectra with higher y-axis values are typical for light or white objects. In figures 2c,d and 3c,d, red rocks were clearly identified in the substrate spectral plots (see spectral peak in the range 600–650 nm). To further quantify spectral similarity between flounder and substrate spectra, we plotted the xy-coordinates of the tri-stimulus values of flounder body components and substrates on a Maxwell triangle (figure 5), which shows that all animal chromaticities fall within the gamut of those of the substrates, according to the human visual system. Figure 5a shows the equilateral triangle drawn for the spectral sensitivities representative of a human with normal colour vision and where the measured spectra fall on this diagram. Figure 5b,c shows the equivalent triangles for the trichromatic guitarfish and the dichromatic crab, respectively. In figure 5d, we show the distribution of lightness (the quantum catch of the longest wavelength receptor for each animal).Figure 5.