Loss-less Nano-fractionator for High Sensitivity, High Coverage Proteomics *
ABSTRACT
---
Recent advances in mass spectrometry (MS)-based proteomics now allow very deep coverage of cellular proteomes. To achieve near-comprehensive identification and quantification, the combination of a first HPLC-based peptide fractionation orthogonal to the on-line LC-MS/MS step has proven to be particularly powerful. This first dimension is typically performed with milliliter/min flow and relatively large column inner diameters, which allow efficient pre-fractionation but typically require peptide amounts in the milligram range. Here, we describe a novel approach termed "spider fractionator" in which the post-column flow of a nanobore chromatography system enters an eight-port flow-selector rotor valve. The valve switches the flow into different flow channels at constant time intervals, such as every 90 s. Each flow channel collects the fractions into autosampler vials of the LC-MS/MS system. Employing a freely configurable collection mechanism, samples are concatenated in a loss-less manner into 2–96 fractions, with efficient peak separation. The combination of eight fractions with 100 min gradients yields very deep coverage at reasonable measurement time, and other parameters can be chosen for even more rapid or for extremely deep measurements. We demonstrate excellent sensitivity by decreasing sample amounts from 100 μg into the sub-microgram range, without losses attributable to the spider fractionator and while quantifying close to 10,000 proteins. Finally, we apply the system to the rapid automated and in-depth characterization of 12 different human cell lines to a median depth of 11,472 different proteins, which revealed differences recapitulating their developmental origin and differentiation status. The fractionation technology described here is flexible, easy to use, and facilitates comprehensive proteome characterization with minimal sample requirements.
No MeSH data available.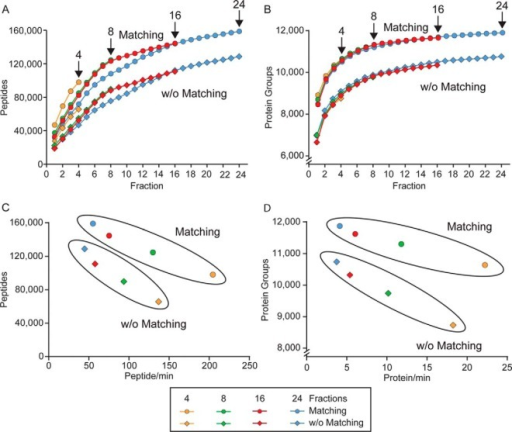 © Copyright Policy - open-access
License
getmorefigures.php?uid=PMC5383787&req=5
Mentions: Strikingly, using 16 fractions (32 h measuring time) and 8 fractions (16 h) still resulted in 98 and 95% of those protein identifications, respectively. Even the four fraction experiments identified 90% of the proteins in 8 h, corresponding to only 1/6th of the measuring time of the 24 fractions. However, although the loss of protein identifications was very moderate with decreasing fraction number, this was not as pronounced at the peptide level, where only 91, 78, and 62% of peptides were still found (supplemental Table 2). This observation is explained by the fact that increasing depth of measurement will result in a saturating number of identified proteins, whereas the number of peptides and the sequence coverage of the proteins still increase. Accordingly, Fig. 3A shows a rapid rise of identified peptides when accumulating the results of subsequent fractions within one experiment. The first fractions of each experiment add newly identified peptides at an almost linear rate. Here, the four-fraction experiment has a clear advantage as it identifies 28,000 peptides (47,000 with matching) in the first fraction, whereas the first fraction of the 24-fraction experiment only results in 19,000 peptides (32,000 with matching). This reflects the fact that in the four-fraction experiment each of the fractions contains a quarter of total peptides, whereas the 24-fraction experiment leads a smaller number of indefinable peptides despite the higher amount per peptide. The total number of peptides identified in the four-fraction experiment is already matched between 6 and 7 fractions for the 24-fraction experiment, which goes on to yield almost twice the total number of peptides. At the protein level, the identification numbers are essentially only a function of the number of fractions, and that is to say the cumulative number of proteins per fraction are almost identical. The saturation of the curve has largely occurred by fraction 8, especially when using match between runs (Fig. 3B).