Effects of ErbB2 Overexpression on the Proteome and ErbB Ligand-specific Phosphosignaling in Mammary Luminal Epithelial Cells *
ABSTRACT
---
Most breast cancers arise from luminal epithelial cells, and 25–30% of these tumors overexpress the ErbB2/HER2 receptor that correlates with disease progression and poor prognosis. The mechanisms of ErbB2 signaling and the effects of its overexpression are not fully understood. Herein, stable isotope labeling by amino acids in cell culture (SILAC), expression profiling, and phosphopeptide enrichment of a relevant, non-transformed, and immortalized human mammary luminal epithelial cell model were used to profile ErbB2-dependent differences in protein expression and phosphorylation events triggered via EGF receptor (EGF treatment) and ErbB3 (HRG1β treatment) in the context of ErbB2 overexpression. Bioinformatics analysis was used to infer changes in cellular processes and signaling events. We demonstrate the complexity of the responses to oncogene expression and growth factor signaling, and we identify protein changes relevant to ErbB2-dependent altered cellular phenotype, in particular cell cycle progression and hyper-proliferation, reduced adhesion, and enhanced motility. Moreover, we define a novel mechanism by which ErbB signaling suppresses basal interferon signaling that would promote the survival and proliferation of mammary luminal epithelial cells. Numerous novel sites of growth factor-regulated phosphorylation were identified that were enhanced by ErbB2 overexpression, and we putatively link these to altered cell behavior and also highlight the importance of performing parallel protein expression profiling alongside phosphoproteomic analysis.
No MeSH data available.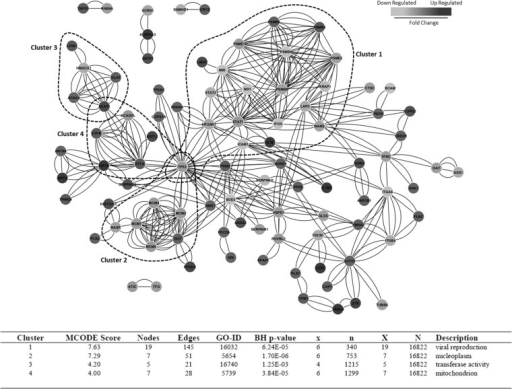 © Copyright Policy - open-access
License
getmorefigures.php?uid=PMC5383782&req=5
Mentions: Differentially expressed proteins were mapped to the STRING interaction database, and four densely connected clusters were identified (Fig. 3). Cluster 1 was enriched for gene products with roles in viral reproduction, including proteasomal subunits PSME1, PSME2, PSMB5, PSMB6, PSMB8, and PSMB9, components of the IFN signaling pathway, and several ISGs. Cluster 2 was enriched for nucleoplasmic proteins with roles in cell cycle regulation and proliferation, including DUT, NASP, MCM2, MCM4, MCM6, and MCM7. Clusters 3 and 4 were connected by ACAT1, which is involved in amino acid, ketone body, and lipid metabolic processes. Cluster 4 was enriched for components of the mitochondrial electron transfer chain, including ETFA and ETFB. The tumor suppressor TP53 connected clusters 1, 2, and 4. The large number of edges connecting TP53 likely reflects the extensive amount of knowledge of this particular gene product. Clusters 1 and 2 were enriched for down-regulated proteins, whereas clusters 3 and 4 primarily contained up-regulated proteins.