Paraneoplastic Pemphigus Associated with a Malignant Thymoma: A Case of Persistent and Refractory Oral Ulcerations Following Thymectomy
ABSTRACT
---
Paraneoplastic pemphigus is a rare, life-threatening autoimmune mucocutaneous blistering disease associated with underlying neoplasia, commonly lymphoproliferative tumors. Herein we report a case of paraneoplastic pemphigus with a unique autoantibody profile associated with a malignant thymoma. A 56-year-old female patient presented with relapsing oral ulcerations accompanied by erythematous papules and patches on her extremities for 2 months. Skin and mucosal biopsies identified interface dermatitis with lichenoid lymphocytic infiltration in the upper dermis. Immunoblotting and enzyme-linked immunosorbent assays revealed that the patient had multiple autoantibodies against desmoglein 1, desmocollin 1, 2, 3, laminin gamma-1, envoplakin, and periplakin. The skin lesions completely healed following thymectomy and systemic corticosteroid therapy, but the oral ulcerations persisted through a follow-up period of over 2 years.
No MeSH data available.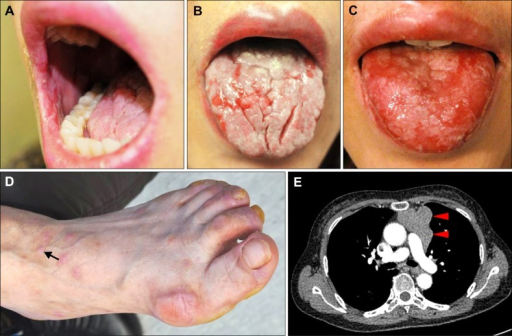 © Copyright Policy - open-access
License
getmorefigures.php?uid=PMC5383750&req=5
Mentions: A 56-year-old female Korean patient presented with widespread ulcerations involving her oral mucosa, and polymorphous cutaneous lesions over her extremities, for a duration of 2 months (Fig. 1A, B, D). Physical examination showed scattered polygonal erythematous scaly papules and plaques on her distal extremities, particularly the dorsal aspects of her hands and feet. Systemic therapy with prednisolone (up to 15 mg) for 2 months was not effective. Biopsies from the buccal mucosa and the skin over the dorsum of the foot were performed. Histopathology of both lesions demonstrated vacuolar degeneration of the basal cells with lichenoid lymphocytic infiltration in the upper dermis. Several apoptotic keratinocytes were found scattered in the epidermis (Fig. 2). An initial diagnosis of generalized lichen planus was made based on the clinicopathologic findings. Systemic therapy with prednisolone and cyclosporine was initiated, but the oral ulcerations persisted during the 4 months of treatment. The refractory nature of her oral lesions, and the accompanying rapid weight loss led to a suspicion of PNP, and additional immunologic studies were performed. Indirect immunofluorescence (IIF) studies identified IgG deposition on keratinocyte cell surfaces of human skin. IIF performed by using rat bladder demonstrated IgG autoantibodies reactive with the transitional epithelia (Fig. 3A, B). Enzyme-linked immunosorbent assays (ELISA) were positive for desmoglein (Dsg) 1 (index, 34.76; positive, ≥20), desmocollin 1 (optical density [OD], 0.451; cut-off, 0.200), 2 (OD, 0.309; cut-off, 0.070), and 3 (OD, 0.326; cut-off, 0.120), and indeterminate for Dsg3 (index, 13.82; positive, ≥20). Immunoblotting (IB) of normal human epidermal extracts was positive for envoplakin and periplakin, and IB of dermal extracts was positive for laminin gamma-1 (Fig. 3C, D). Computed tomography scanning, which was performed to search for an underlying neoplasm, demonstrated a large anterior mediastinal tumor (Fig. 1E). This was proven to be a malignant thymoma by ultrasound-guided gun biopsy. Total thymectomy, wedge resection of the left upper lobe of the lung, and pericardial resection, were performed. Surgical pathology confirmed the tumor as a thymoma with lung and pericardial extension. Owing to the presence of pleural seeding, she received 45 Gy of adjuvant radiotherapy postoperatively.