Pulmonary Delivery of Virosome-Bound Antigen Enhances Antigen-Specific CD4 + T Cell Proliferation Compared to Liposome-Bound or Soluble Antigen
ABSTRACT
---
Pulmonary administration of biomimetic nanoparticles loaded with antigen may represent an effective strategy to directly modulate adaptive immune responses in the respiratory tract. Depending on the design, virosomes may not only serve as biomimetic antigen carriers but are also endowed with intrinsic immune-stimulatory properties. We designed fluorescently labeled influenza-derived virosomes and liposome controls coupled to the model antigen ovalbumin to investigate uptake, phenotype changes, and antigen processing by antigen-presenting cells exposed to such particles in different respiratory tract compartments. Both virosomes and liposomes were captured by pulmonary macrophages and dendritic cells alike and induced activation in particle-bearing cells by upregulation of costimulatory markers such as CD40, CD80, CD86, PD-L1, PD-L2, and ICOS-L. Though antigen processing and accumulation of both coupled and soluble antigen was similar between virosomes and liposomes, only ovalbumin-coupled virosomes generated a strong antigen-specific CD4+ T cell proliferation. Pulmonary administrated antigen-coupled virosomes therefore effectively induced adaptive immune responses and may be utilized in novel preventive or therapeutic approaches in the respiratory tract.
No MeSH data available.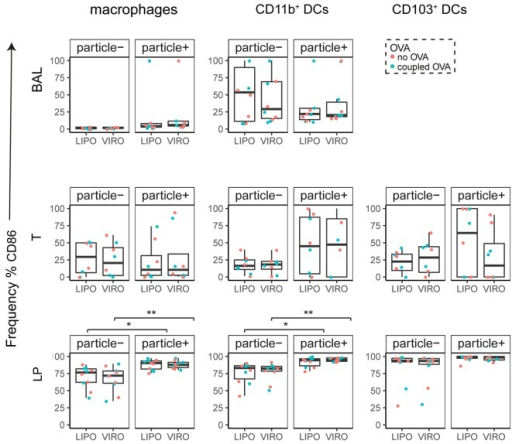 © Copyright Policy
License
getmorefigures.php?uid=PMC5383731&req=5
Mentions: Interestingly, CD8α+ resident DCs in LDLN significantly upregulated most costimulatory markers after uptake of particles (Figure 3A, particle+ DCs), and significant changes in MFI for CD40, CD80, and ICOS-L for virosomes in CD8α+ cells occurred (Figure S6A in Supplementary Material). CD8α− migratory DCs in LDLN significantly upregulated CD40, PD-L1, and PD-L2 (Figure 3B) and MFI was increased for CD40 (Figure S6B in Supplementary Material). Furthermore, a low but significant increase in CD40 expression frequency in both macrophages in BAL and trachea and CD11b+ DCs in LP occurred (Figure 4), but no changes were detectable for the MFI (Figure S7A in Supplementary Material). CD80 expression significantly increased upon uptake of particles in CD11b+ DC cell populations in LP for both frequency (Figure 5) and MFI (Figure S7B in Supplementary Material), whereas CD86 expression was increased after particle uptake for both macrophages and CD11b+ DCs in LP (Figure 6). A significantly higher proportion of CD103+ DC expressed PD-L1 in both trachea and LP whereas CD11b+ DCs upregulated PD-L1 in LP and BAL after particle uptake (Figure 7). Following particle uptake, CD11b+ DCs from BAL and LP showed greater expression of PD-L1, as did macrophages and CD103+ in LP (MFI; Figure S7D in Supplementary Material). An increased proportion of PD-L2 positive cells was found in the CD11b+ DCs from LP, as well in CD103+ DCs from trachea and LP (Figure 8) following particle uptake, whereas for MFI we detected significant change for macrophages, CD11b+ and CD103+ cells in LP, and CD11b+ DCs in T (Figure S7E in Supplementary Material). Similarly, for ICOS-L upregulation, an enhanced proportion of cells was seen in particle-bearing macrophages, CD11b+ and CD103+ DCs from LP (Figure 9), and an increased MFI in macrophages from BAL and DCs in LP (Figure S7F in Supplementary Material).