The Translation Initiation Factor 1A ( TheIF1A ) from Tamarix hispida Is Regulated by a Dof Transcription Factor and Increased Abiotic Stress Tolerance
ABSTRACT
---
Eukaryotic translation initiation factor 1A (eIF1A) functions as an mRNA scanner and AUG initiation codon locator. However, few studies have clarified the role of eIF1A in abiotic stress. In this study, we cloned eIF1A (TheIF1A) from Tamarix hispida and found its expression to be induced by NaCl and polyethylene glycol (PEG) in roots, stems, and leaves. Compared to control, TheIF1A root expression was increased 187.63-fold when exposed to NaCl for 6 h, suggesting a potential abiotic stress response for this gene. Furthermore, transgenic tobacco plants overexpressing TheIF1A exhibited enhanced seed germination and a higher total chlorophyll content under salt and mannitol stresses. Increased superoxide dismutase, peroxidase, glutathione transferase and glutathione peroxidase activities, as well as decreased electrolyte leakage rates and malondialdehyde contents, were observed in TheIF1A-transgenic tobacco and T. hispida seedlings under salt and mannitol stresses. Histochemical staining suggested that TheIF1A improves reactive oxygen species (ROS) scavenging in plants. Moreover, TheIF1A may regulate expression of stress-related genes, including TOBLTP, GST, MnSOD, NtMPK9, poxN1, and CDPK15. Moreover, a 1352-bp promoter fragment of TheIF1A was isolated, and cis-elements were identified. Yeast one-hybrid assays showed that ThDof can specifically bind to the Dof motif present in the promoter. In addition, ThDof showed expression patterns similar to those of TheIF1A under NaCl and PEG stresses. These findings suggest the potential mechanism and physiological roles of TheIF1A. ThDof may be an upstream regulator of TheIF1A, and TheIF1A may function as a stress response regulator to improve plant salt and osmotic stress tolerance via regulation of associated enzymes and ROS scavenging, thereby reducing cell damage under stress conditions.
No MeSH data available.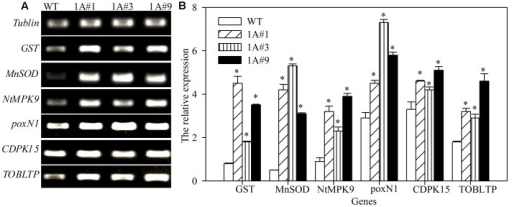 © Copyright Policy
License
getmorefigures.php?uid=PMC5383729&req=5
Mentions: Tobacco plants overexpressing TheIF1A showed resistance to NaCl and mannitol stresses, and the activities of the corresponding protective enzymes were increased in transgenic lines compared with WT plants, suggesting that expression of key potential stress-related genes may be altered by exogenous expression of TheIF1A. Stress response-related genes were selected for analysis, and seven tobacco genes, including GST, MnSOD, NtMPK9, poxN1, CDPK15, and TOBLTP, exhibited increased levels of expression in TheIF1A-overexpressing lines compared with WT plants. In particular, levels of GST and MnSOD expression were 5.63- and 10.60-fold higher, respectively, than those in WT plants (Figure 7). These findings indicated that TheIF1A improves ROS scavenging via regulation of antioxidant genes.