A Quantitative Proteomic Analysis of Brassinosteroid-induced Protein Phosphorylation in Rice ( Oryza sativa L.)
ABSTRACT
---
The group of polyhydroxysteroid phytohormones referred to as the brassinosteroids (BRs) is known to act on plant development and the stress response. BR signal transduction relies largely on protein phosphorylation. By employing a label-free, MS (Mass Spectrometry)-based phosphoproteomic approach, we report here the largest profiling of 4,034 phosphosites on 1,900 phosphoproteins from rice young seedlings and their dynamic response to BR. 1,821 proteins, including kinases, transcription factors and core components of BR and other hormone signaling pathways, were found to be differentially phosphorylated during the BR treatment. A Western blot analysis verified the differential phosphorylation of five of these proteins, implying that the MS-based phosphoproteomic data were robust. It is proposed that the dephosphorylation of gibberellin (GA) signaling components could represent an important mechanism for the BR-regulated antagonism to GA, and that BR influences the plant architecture of rice by regulating cellulose synthesis via phosphorylation.
No MeSH data available.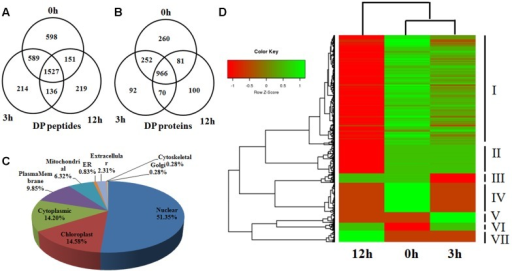 © Copyright Policy
License
getmorefigures.php?uid=PMC5383725&req=5
Mentions: Phosphorylation is a reversible, highly dynamic post-translational modification. Therefore, an altered phosphorylation pattern usually indicates the potential function of phosphorylation in the corresponding biological process. In this study, we collectively identified 3434 phosphopeptides which showed a DP pattern among the three time points of BR treatment (/log2(fold-change)/≥ 1, P < 0.05) (Table 1 and Supplementary Table S1). Of these, 598 were phosphorylated at 0 h, 214 at 3 h and 219 at 12 h, while the equivalent numbers of non-phosphorylated peptides were 136, 151, and 589 (Figure 3A); the remaining 1,527 peptides were phosphorylated at the three time points, but to a significantly varied degree (P < 0.05). A search of the set of known rice proteins allowed the DP peptides to be mapped onto 1,821 proteins, among which, respectively, 260, 92, and 100 were phosphorylated at the three time points, and respectively, 70, 81, and 252 were non-phosphorylated (Figure 3B). Of potential interest was that about 10% (191/1,821) of the proteins were either kinases or phosphatases, enzymes which are involved in protein phosphorylation/dephosphorylation, suggesting that these proteins are potential components of the BR signaling cascade. And indeed, several known BR signaling-related kinases, including OsGSK1 and OsSERK1 were detected to be DP (Koh et al., 2007; Li et al., 2009; Park et al., 2011). Rice genome contains at least 555 epi-genetic controlling factors (Gendler et al., 2008). Hou et al. (2015) reported that HDT701 and 27 other epigenetic controlling factors were DP in response to the Xoo infection, from which the proposal was that phosphorylation switch overriding the epi-genetic regulation may be a very universal model in the plant disease resistance pathway. In consistence with the report, the BR treatment also significantly altered the phosphorylation of 54 epigenetic controlling factors (involved in DNA methylation, histone methylation, histone acetylation and chromatin remodeling) and 118 transcription factors belonging to the families such as bHLHs, bZIPs, C3Hs, and Mybs. An analysis based on the CELLO algorithm showed that 52, 15, 14, and 10% of the DP proteins were located in the nucleus, chloroplast, cytoplasm, and plasma membrane, respectively. In contrast, proteins in the remaining 5 compartments such as mitochondrial, ER, and golgi accounted only less than 10% in total (Figure 3C).