SNP Discovery and Genetic Variation of Candidate Genes Relevant to Heat Tolerance and Agronomic Traits in Natural Populations of Sand Rice ( Agriophyllum squarrosum )
ABSTRACT
---
The extreme stress tolerance and high nutritional value of sand rice (Agriophyllum squarrosum) make it attractive for use as an alternative crop in response to concerns about ongoing climate change and future food security. However, a lack of genetic information hinders understanding of the mechanisms underpinning the morphological and physiological adaptations of sand rice. In the present study, we sequenced and analyzed the transcriptomes of two individuals representing semi-arid [Naiman (NM)] and arid [Shapotou (SPT)] sand rice genotypes. A total of 105,868 pairwise single nucleotide polymorphisms (SNPs) distributed in 24,712 Unigenes were identified among SPT and NM samples; the average SNP frequency was 0.3% (one SNP per 333 base pair). Characterization of gene annotation demonstrated that variations in genes involved in DNA recombination were associated with the survival of the NM population in the semi-arid environment. A set of genes predicted to be relevant to heat stress response and agronomic traits was functionally annotated using the accumulated knowledge from Arabidopsis and several crop plants, including rice, barley, maize, and sorghum. Four candidate genes related to heat tolerance (heat-shock transcription factor, HsfA1d), seed size (DA1-Related, DAR1), and flowering (early flowering 3, ELF3 and late elongated hypocotyl, LHY) were subjected to analysis of the genetic diversity in 10 natural populations, representing the core germplasm resource across the area of sand rice distribution in China. Only one SNP was detected in each of HsfA1d and DAR1, among 60 genotypes, with two in ELF3 and four in LHY. Nucleotide diversity ranged from 0.00032 to 0.00118. Haplotype analysis indicated that the NM population carried a specific allele for all four genes, suggesting that divergence has occurred between NM and other populations. These four genes could be further analyzed to determine whether they are associated with phenotype variation and identify alleles favorable for sand rice breeding.
No MeSH data available.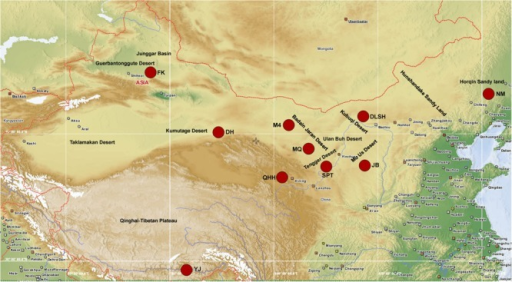 © Copyright Policy
License
getmorefigures.php?uid=PMC5383723&req=5
Mentions: Phylogeographic analysis has revealed that sand rice originated from the Gurbantunggut desert and then dispersed into the central desert region and eastern sandy lands in China (Qian et al., 2016). In this study, 10 natural populations (Figure 7) from the Gurbantunggut desert (FK), Kumutage desert (DH), Qinghai-Tibetan Plateau (QHH and YJ), central deserts (M4, MQ, SPT, JB, DLSH), and eastern sandy regions (NM), were used to investigate the genetic diversity of four candidate genes. Six genotypes in each population were sequenced and the successful genotypes for each gene ranged from 51 to 54 (Table 3). The HsfA1d gene was conserved in nine populations, with a single transversion SNP (T/A) leading to an amino acid change (Glutamate/Aspartate) detected in NM population (Figure 8). Alignment based on the RBH results demonstrated that this SNP was located between the regions encoding the transactivation domain (AHA) and the nuclear export signal (NES) at the C terminus of Arabidopsis HsfA1d. For the seed size gene DAR1, an intron (125 bp) was included in the PCR products and population sequencing identified a single transversion SNP (G/C), specific to the NM population. This synonymous SNP encoded an amino acid located between the LIM and the LIM-associated C-terminal domains (Supplementary Figure 4). Similarly, an 86 bp intron was included in the LHY amplicons and four SNPs were obtained from across the 10 sand rice populations, of which three were transitions (T/C, C/T, and T/C) and one was a transversion (A/T) leading to an amino acid change (Glutamine/Histidine; Supplementary Figure 5). Two transition SNPs were detected in the ELF3 gene. One SNP (G/A) was NM-specific and synonymous, while the other (C/T) was observed in five of six genotypes in the JB population and encode an Alanine to Valine amino acid substitution (Supplementary Figure 6). The aligned sequences for each gene were further subjected to analysis of nucleotide and haplotype diversity using DnaSP. Consistent with the numbers of SNP, nucleotide diversity values for all three genes were very low, ranging from 0.00032 (HsfA1d) to 0.00118 (LHY), while haplotype diversity ranged from 0.208 (HsfA1d) to 0.352 (ELF3).