Cross Talk between Inhibitory Immunoreceptor Tyrosine-Based Activation Motif-Signaling and Toll-Like Receptor Pathways in Macrophages and Dendritic Cells
ABSTRACT
---
The innate immune cells sense microbial infection and self-ligands by pathogen recognition receptors (PRRs), such as toll-like receptors (TLRs) and regulatory receptors (RRs), associated with immunoreceptor tyrosine-based activation motif (ITAM). Rapid activation and concerted action of PRRs signaling and feedback inhibitory mechanisms must be engaged to ensure the host defense functions and to prevent cytotoxicity associated with excessive activation. ITAM-associated RRs can generate stimulatory or, paradoxically, inhibitory signals. The network of ITAM-associated RR, together with TLR-signaling pathways, are responsible for immunogenic or tolerogenic responses of macrophages and dendritic cells to their microenvironment. In macrophages, TLR4 signaling is inhibited by low-avidity ligation of ITAM-associated receptors, while high-avidity ligation of ITAM-associated receptors results in potentiation of TLR4 signaling together with resistance to extracellular cytokine microenvironment signals. In contrast to macrophages, TLR7/9 signaling in plasmacytoid DCs (pDCs) is inhibited by high-avidity ligation of ITAM-associated RR, while low-avidity ligation does not show any effect. Surprisingly, interference of ITAM-associated receptor signaling with TLR pathways has not been reported in conventional dendritic cells. Here, we present an overview of molecular mechanisms acting at the crossroads of TLR and ITAM-signaling pathways and address the question of how the high-avidity engagement of the ITAM-associated receptors in pDCs inhibits TLR7/9 signaling. Cellular context and spatiotemporal engagement of ITAM- and TLR-signaling pathways are responsible for different outcomes of macrophage versus pDC activation. While the cross-regulation of cytokine and TLR signaling, together with antigen presentation, are the principal functions of ITAM-associated RR in macrophages, the major role of these receptors in pDCs seems to be related to inhibition of cytokine production and reestablishment of a tolerogenic state following pDC activation. Pharmacologic targeting of TLR and ITAM signaling could be an attractive new therapeutic approach for treatment of chronic infections, cancer, and autoimmune and inflammatory diseases related to pDCs.
No MeSH data available.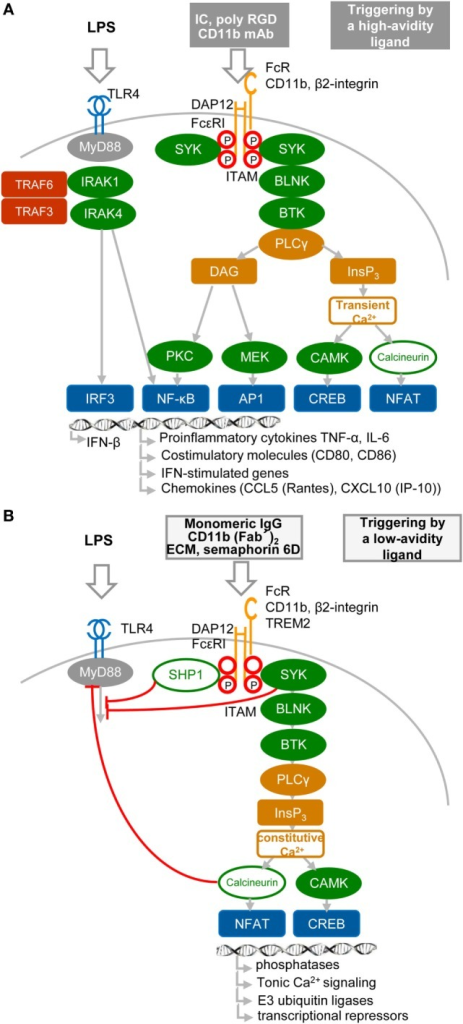 © Copyright Policy
License
getmorefigures.php?uid=PMC5383719&req=5
Mentions: Results obtained during the two last decennia show that immune receptors associated with an ITAM can generate stimulatory or, paradoxically, inhibitory signals (36–44) (Figures 2A,B). These findings, obtained mostly in macrophages, provoked intense research into underlying mechanisms, as well as semantic debate (45). Inhibition can be readily explained by the paired co-clustering of ITIM-bearing receptors with the targeted ITAM-associated receptor, which brings them into close proximity for the consecutive inhibitory action of the tyrosine phosphatase SRC-homology-2 (SH2)-domain-containing protein tyrosine phosphatase 1 (SHP1) and SH2-domain-containing inositol phosphatase-1 (SHIP) (9, 24, 34, 42, 44) (Figure 2B). The work of several laboratories suggests that positive or negative control of immune responses, in the case of ITAM alone, is determined by avidity of ITAM-associated receptors to their ligands. The resulting "signal-switch hypothesis" is based on the observation that cross-linking by multimeric or high-avidity engagement of the ITAM-associated receptors leads to complete phosphorylation of ITAM tyrosine residues followed by the recruitment of SYK and to cell activation that synergizes IFN-I production, but inhibits cytokine signaling (8, 9, 39, 45, 46) (Figure 2A). In contrast, monovalent or low-avidity engagement of the ITAM-associated receptor results in monophosphorylation of the membrane-distal tyrosine (Y304) of ITAM allowing a transient recruitment and minimal activation of Syk (44) followed by actin depolymerization and translocation of protein or lipid phosphatases (SHP1, SHIP) instead of SYK to the ITAM in lipid rafts. Tyrosine phosphatases SHP1/2 and lipid phosphatase SHIP recruited to partially phosphorylated ITAM can inhibit TLR4 signaling by dephosphorylation of signaling intermediates, but concomitantly cell sensitivity to extracellular cytokines increases (Figure 2B). If a high-avidity stimulation of other receptors, such as FcγRs, FcεRI, the tumor necrosis factor receptors, chemokine CC-motif receptor 2, or TLRs, occurs in the proximity of a weak-avidity stimulation, the high-avidity-stimulated receptor is recruited toward the inhibitory SHP1 (9, 38, 42, 43, 46, 47). High-avidity signaling is deactivated by SHP1 in rafts and completed after internalization and segregation into polarized clusters called "inhibisomes," with SYK present at their periphery (9, 42).